Benni McCarthy
EXTRA TIME: Watch Benni McCarthy confirm what he said in frustration in Cape Derby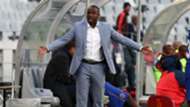 Actually, in the original video on television you could only lip read what he said, but this time Benni shouts out what he really said, loud and clear.
If McCarthy sounds like this after winning the Derby, then we don't want to know what he'd sound like when losing.
This video was recorded at the Newlands rugby stadium in Cape Town.
WARNING: The audio is not for sensitive viewers. Strong language used.
Benni has finally cleared up what he said the other day. The action kicks off at Newlands at 2pm on Sat. #LoveRugby pic.twitter.com/l3Rr59cSXW

— Aden Thomas (@adenthomas) October 5, 2017