World Cup
EXTRA TIME: South Africa reacts to Germany knocked out and Brazil victory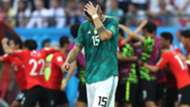 Germany eventually lost two games and just beat Sweden, so three points wasn't enough to progress to the last 16.
One of South Africa's most popular international teams, Brazil managed to avoid a similar shock when they beat Serbia 2-0 on Wednesday night.
Here's how South African star players and some members of the media reacted to the results, including Argentina's progress.
We all knew mos!!  pic.twitter.com/6O3bADkuL2

— Thabiso semenya (@Touch26semenya) June 27, 2018
I wonder if Leroy sane is crying or celebrating 

— phaka32 (@Phaka32) June 27, 2018
This control from Neymar is absolutely filthy.  pic.twitter.com/FVcBKjf2go

— World Cup (@FlFAWC2018) June 27, 2018
 this is a South African handwriting thats all i can tell u pic.twitter.com/Y5SIXi9KMZ

— Thabang Monare (@tmonare4) June 27, 2018
This is the greatest thing you can watch.

Lionel Messi is the name ladies and gentleman.pic.twitter.com/UGVSbjpsnp

— Barca Universal (@BarcaUniversal) June 27, 2018
Coutinho is by far the best player for Brazil at the World Cup 

— Bongani Zungu (@BonganiZungu08) June 27, 2018
Full time
Good fight back from Costa Rica to finish the game at 2 all does nothing to change the status quo - Switzerland and Brazil are through.#SUI 2-2 #CRC #WorldCup pic.twitter.com/d1jLT4hnfZ

— Thandi Merafe (@thandi_399) June 27, 2018
It's tough to be Messi pic.twitter.com/IY3emNp4ya

— Marks Maponyane (@MarksMaponyane) June 28, 2018
Let's Go Boys 🇧🇷🇧🇷🇧🇷🇧🇷🇧🇷

Hopefully no upset in this game  pic.twitter.com/xxRHAuyTah

— Janine Van Wyk (@Janinevanwyk5) June 27, 2018
Those two touches.. this is some supernatural stuff..pic.twitter.com/rSRD1AFr0O

— ASG (@ahadfooty_II) June 26, 2018
After getting out the group stage, Sweden 🇸🇪 will now meet Switzerland 🇨🇭 In the next round. Sweden 🇸🇪 V Switzerland 🇨🇭. Yes people all around the world  it's two completely different country's... #SWEMEX #SWE #SUI #Fifa #WorldCupRussia2018 #HejaSverige

— James keene (@JamesKeene28) June 28, 2018
Neymar after every tackle...  pic.twitter.com/OFE5KlNUVL

— Michael Morton (@MMORTON6) June 27, 2018