Women's World Cup
EXTRA TIME: How South Africa reacted to Germany thrashing Banyana Banyana in Women's World Cup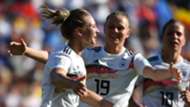 Germany beat Banyana Banyana 4-0 in their third and final group stage fixture at the Women's World Cup at Stade de la Mosson in Montpellier on Monday.
The result confirms South Africa's exit from the tournament, since they had to beat Germany by a high score and hope other results went their way to advance to the knock-outs.
Banyana ended up losing all three of their matches, finishing bottom of their group, earning zero points, conceding eight goals and scoring just one.
Reality set in, particularly when you consider that South Africa believed they didn't play badly in their first two matches.
Banyana lost 3-1 to Spain in their opening game, where the Africans felt hard done by to concede two penalties. Then they were edged 1-0 by an excellent Chinese team.
Ultimately, Banyana were placed in an extremely difficult group and will learn from this World Cup experience.
However there were many fans on social media who are not as patient with South Africa's campaign in France 2019.
Many of their Tweets boast a good sense of South African humour, which helps deal with such a depressing 4-0 result.
Then there's also posts which congratulated Banyana for making the country proud and representing South Africa with honour in France.
Where are those who were saying Banyana must play with our boys @BafanaBafana they want to see something? 😂😂😂😂 pic.twitter.com/CyxIQD5lOq

— JAY🇿🇦 (@JayNtuli) June 14, 2019
Me: @Banyana_Banyana is much better than @BafanaBafana

Banyana Banyana: pic.twitter.com/S2e3bAw3rf

— Tlou Setati (@TlouSetati1) June 17, 2019
The fact that you qualified & appeared on such an elite stage with NO PROFESSIONAL LEAGUE & little support just goes to show how amazing you ladies are. Imagine if you received the necessary support. Well done ladies. Re ikgantsha ka lena ❤️. @Banyana_Banyana #FIFAWWC

— Mmaphuti Mashamaite (@Miss_Masha23) June 17, 2019
Desiree Ellis failed @Banyana_Banyana I know we all trying to sweeten everything and be proud of their efforts but honestly the coach failed the team... Linda, Jermaine and Smeda could have offered us something but she held back from the first game #FIFAWWC

— uNhlakanipho (@Nipho_MK) June 17, 2019
Well done Banyana Banyana. You gave it your all and made us proud.

— Mamacita (@melissaweber) June 17, 2019
After this tournament, instead of crucifying banyana for their atrocious showing, we should have a national dialogue, & figure out why are they at the level they're in today. First stop, form a professional football league for women. #RSAGER

— Siya Veyane (@siyaveyane) June 17, 2019
#RSAGER Banyana should save us from embarrassment and forfeit this game before its too late 😓 pic.twitter.com/R8OozVG3ug

— Zama BIBO Zondo (@ZEE_Bibo) June 17, 2019
They were fortunate to be in a group as tough as they were now they've learned a lot and come next four years they'll be better prepared but for now we focus on the Olympics 🙋🙋🙋@Banyana_Banyana pic.twitter.com/nCsiuGLJ36

— Bhut'Basangile_Faku🇿🇦 (@basangile) June 17, 2019
Former Banyana Banyana player Lydia Monyepao in studio with @MarcLewisZA #SportsOn405 #Newzroom405 pic.twitter.com/4xEd4Yvgvk

— Sport On 405 (@SportOn405) June 17, 2019
Banyana goalkeeper pic.twitter.com/irTdMlyFUy

— URBANITE (@MdladlaSiya) June 17, 2019
In all these World Cups (cricket,under 20, banyana)SA should be renamed to Mabena .We deserve that name #RSAGER pic.twitter.com/Tixiqm2dzK

— Mbela Mse (@MbelaMse) June 17, 2019
Banyana must pick up Proteas on the way back and save costs pic.twitter.com/0YRAnikZBR

— un·der·score D (@mthu_d) June 17, 2019
This is getting embarrasing.#Banyana pic.twitter.com/Cwkc0KXC9W

— Subscription (@mohlotswane) June 17, 2019
This Thuma Mina costs cutting measures should extend to sports also bathong🙈can we cancel the Bafana bafana trip n Springboks trips in advance before we get more stressed n 💔 Banyana banyana n Proteas dispalys so far are jus a tip of more to come!! pic.twitter.com/q0PWSw4OyX

— AMG_Mans ReDefined (@Al_lnz_Ou17) June 17, 2019
Safa owe Banyana Banyana a professional league . It's the only way to improve #RSAGER

— Teebee_wa mathomo (@TeebeeBakwena) June 17, 2019
Regardless of the results at this #FIFAWWC, what #Banyana have done by reaching it, what Thembi Kgatlana has done by scoring in it, could potentially be a massive watershed moment for women's football in South Africa…

It should be a game-changer, I truly hope it is.

— Joe Crann (@YesWeCrann) June 17, 2019
Congrats to Banyana Banyana for representing us so well on the world stage so proud of our girls .Remember the experience was priceless. #WomensWorldCup2019 #RSAGER pic.twitter.com/wyyhIGhib5

— Danny Herrera (@danny_hiralal) June 17, 2019
Banyana Banyana's run in this Fifa world cup 2019: #RSAGER

Matches played: 3
Matches won: 0
Matches drew: 0
Matches lost: 3
Goals socred: 1 (Thembi Kgatlana)
Goals against: 8

What a shocking performance. What a disaster!!! pic.twitter.com/ybqvlKEHR8

— Maleka (@Maleka_Moroane) June 17, 2019
#Banyana can't finish in the top two of Group B at the #FIFAWWC, but there is still a small chance that they could progress as a best third-place side…#RSA would need to beat #GER though, and other results go their way. Not impossible, but certainly not easy.

— Joe Crann (@YesWeCrann) June 17, 2019
Me pretending this Banyana game is not happening pic.twitter.com/3dLBJ76xhu

— Gugulethu Mhlungu (@GugsM) June 17, 2019
Banyana must back home via England and get The Proteas , wait few days there for Bafana bafana coz they also coming home after two game then go Via Egypt. We'll wait for you guys at OR Tambo✌ #RSAGER

— Mpintshi (@Themba_Tman8) June 17, 2019
We today say farewell to the #FIFAWWC to @Banyana_Banyana 🇿🇦

Thank you for your huge contribution to the tournament in your debut! #RSA #RSA #RSA #RSA #RSA #RSA pic.twitter.com/EEl8B6dSkE

— FIFA Women's World Cup (@FIFAWWC) June 17, 2019
The #limitless story continues @Banyana_Banyana @SAFA_net @SasolLeague pic.twitter.com/MfZsbtT155

— Sasol (@SasolSA) June 16, 2019
Great to visit the game #RSA🇿🇦 vs #GER🇩🇪! Relaxing and exciting!💛💚 @Banyana_Banyana @SAFA_net pic.twitter.com/jGGzTYIiHy

— Vera Pauw (@verapauw) June 17, 2019