Golden Arrows
EXTRA TIME: Golden Arrows lose to La Liga team Girona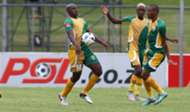 Premier Soccer League club Golden Arrows were beaten 4-2 by La Liga team Girona yesterday.
It was not a disgrace for the Lamontville based team when you consider how highly Girona is rated in Spain. In case you don't know, have a look at the La Liga table yourself below.
Check out these Tweets from Arrows and Girona on their coverage of the game, including photos.
The video interviews don't belong to the same game, but you can get an idea from these Tweets about training and preparation standards at Girona. 
Entrenament a Riudarenes amb l'equip sudafricà @goldenarrowsfc1.#GironaFC pic.twitter.com/IpYwO0a8ht

— Girona FC (@GironaFC) March 23, 2018
FT: @GironaFC 4-2 @goldenarrowsfc1

Read more https://t.co/Plws4NWUYw 🇿🇦 🇪🇸

— DiskiStyle (@DiskiStyle) March 23, 2018
We went pound for pound today against Girona FC in Riudarenes, Spain in another exciting and action filled game on the Multichoice Diski tour to Europe. read more https://t.co/BxsqH4PnTT pic.twitter.com/pBWUjKKd8y

— Golden Arrows FC (@goldenarrowsfc1) March 23, 2018
Twitter takeover by @goldenarrowsfc1 's Sherwyn Naicker.#Asidlali #ArrowsAbroad 🇿🇦>🇪🇸 pic.twitter.com/7HsqUjRqOa

— Asidlali (@Asidlali) March 23, 2018
 @OmarHarrak1: "En un porter el factor psicològic és determinant".
 L'entrenador de porters del Girona parla de la importància d'aquesta posició tan específica dins l'onze.
 https://t.co/xH3cJ0XPxf#GironaFC pic.twitter.com/q3TI8mX5pL

— Girona FC (@GironaFC) March 23, 2018
The @goldenarrowsfc1 players are shooting some diary inserts for the MultiChoice Diski Challenge magazine show #Asidlali #ArrowsAbroad 🇿🇦>🇪🇸 pic.twitter.com/0a7d8ddqZn

— Asidlali (@Asidlali) March 23, 2018
Riudarenes
Primer entrenament setmanal#GironaFC #LaLigaSantander pic.twitter.com/78COvBSvmw

— Girona FC (@GironaFC) March 21, 2018
CLASSIFICACIÓ

ornada 29
 7Posició
 43 Punts

A seguir lluitant fins al final! #OrgullGironí @LaLiga pic.twitter.com/zhCScrdF6d

— Girona FC (@GironaFC) March 19, 2018