KPL
Ex-Tusker midfielder dropped in Europe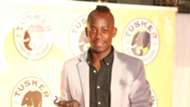 Former Tusker FC midfielder Luis Tera Misiko has been dropped by Georgian Premier League side Kolkheti 1913 Poti.
Misiko penned a one-year deal with the club in January after being part of a successful Brewers in 2016 but it is unfortunate that his contract has been terminated even before the league commencement.
Ottamax explains why he left Gor Mahia
This information has been confirmed by Kolkheti director Temur Barkaia in an interview with Sportall where he also praised former Gor Mahia defender Eric 'Marcelo' Ouma, who joined the club at the same time with Misiko. "He was not overlooked. We had hoped (to have him) but he (eventually) did not meet our expectations and he had to be dropped." 
Barkaia was giving a general refection about 2016 season and projections of season 2017 touching on weaknesses and strengths of his club.