UEFA Champions League
European Club Association wants VAR in Champions League by 2019-20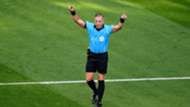 European Club Association (ECA) executive member and Juventus chairman Andrea Agnelli has called for the introduction of Video Assistant Refereeing (VAR) in the Champions League "as soon as possible."
VAR was used at the World Cup as well as in some of Europe's top leagues, including Serie A and the Bundesliga, but has not yet been rolled out for the Champions League and Europa League.
Agnelli has previously urged UEFA to use it in European competitions, having seen Juventus embroiled in controversy during their Champions League semi-final defeat to Real Madrid last April.
The ECA General Assembly revealed that a third UEFA competition was set to commence in 2021-22, but wants European football's governing body to bring in VAR long before then.
"The support that the referees receive from the VAR is huge and that's why the ECA wants it to be introduced as soon as possible in UEFA competitions," Agnelli told the general assembly.
"In the 2014 World Cup in Brazil, 95 per cent of decisions were correct, while in Russia with VAR this percentage rose to 99.3 per cent. When you start to use the VAR, you will never go back because you understand that this is the right way.
"I spoke to UEFA president Aleksandar Ceferin about this, he understands our position and told us that VAR will be implemented, but UEFA are comprised of 53 Federations and an appropriate preparation is needed before they can proceed.
"We are very respectful with regards to UEFA's request that the referees are given proper training so they can maintain the standard set by the leagues that have already introduced VAR.
"We hope that next season UEFA can be in a position to introduce the technology into the Champions League and Europa League. We are all working in that direction.
"When you start working with VAR and see that the margin of error is reduced by another five per cent, it becomes a path you must go down."
The 2018-19 Champions League group stage kicks off on Tuesday, September 18.