World Cup
El Hadji Diouf attacks Cisse and Le Roy on Senegal future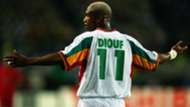 El-Hadji Diouf has reiterated his remarks that Cisse should be axed as the Teranga Lions coach, while also attacking former Senegal mentor Claude Le Roy for defending the incumbent.
Following Senegal's group stage exit from the just-ended World Cup, Diouf has emerged as one of Cisse's fierce critics.
The Senegal crop of 2002 in the Korea/Japan World Cup, captained by Cisse, captured the imagination of the world when they reached the last-eight in their debut appearance at the tournament, with Diouf as one of their star performers.
Inevitably, the current side drew comparisons with with the Class of 2002, and Diouf has called for Cisse's sacking.
Diouf's remarks prompted Le Roy to come to the defence of Cisse, saying the 42-year-old needs support to continue at the helm.
"I am surprised when I hear criticism of poor Aliou Cisse," Le Roy was quoted as saying by L'Observateur.
"I feel that he has done a remarkable job. We must continue to help him instead of looking for lice in his head. Senegal showed that they were a very well-coordinated team, very structured, the same for Nigeria and Morocco."
But Diouf hit back, saying he cannot even recommend the Frenchman for a return after an unsuccessful spell as Senegal coach from 1989 to 1992.
Le Roy's three-year tenure saw Senegal reaching the 1992 Africa Cup of Nations quarter-finals as their best shot.
"Before extending the contract of any coach, it must be evaluated," Diouf told Senegalese radio station RFM.
"We had to know if the objectives that were set were achieved or not. But for this campaign (the 2018 World Cup), everyone knows that we do not have a good coach and yet we currently have the most complete team in the history of Senegalese football.
"This team has the ability to win an Africa Cup of Nations, but that cannot be achieved if Aliou Cisse remains at the helm of the national team.
"Claude Le Roy is not a reference for me, I'm sorry. He was given the team and he could not win the Africa Cup of Nations when he had the opportunity. He has nothing to say."
A journeyman in Africa, Le Roy has twice coached each of Cameroon and DRC among other stints with Ghana, Congo Brazzaville and Togo.