Malaysia Cup
Durakovic delighted to help Perak to Malaysia Cup quarters for the first time in 5 years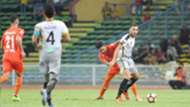 Perak reached the quarter final stage of the Malaysia Cup for the first time since 2011 after collecting a comfortable 3-1 win over PKNS FC at Shah Alam Stadium on Saturday.
The Bos Gaurus did not have to break into third or fourth gear as the listless Red Ants offered very little resistance in the Group B match. Yashir Pinto converted an early penalty kick, Nazrin Nawi struck a wonderful free kick in the second half and Gilmar Filho headed in a good counter attacking move late in the second half to keep Perak top of the group.
In the post-match press conference, Perak's Mehmet Durakovic was delighted to have guided his side into the knockout stage and stressed that it was important for a team like Perak to be there in the latter stages of the competition.
"We came here to win the game. We had a game plan, it worked and we are into the quarter finals. Perak havent been there for nearly 5 years and it was very important for them to qualify. And we did it with class, so I'm very happy tonight," said Durakovic.
In the match, he again went for the preferred starting XI that has seen very little change since the domestic campaign resumed in July. The minutes put in playing as a team seemed to have made Perak into a tougher side to beat and the increasing understanding is there for all to see.
Despite the gruelling schedule with the players playing every three to four days, Durakovic isn't worried about his reliance of a small bunch of players. In fact, the Australian is delighted with the response that he getting out from the players.
"No, I'm not worried at all [about players getting too tired]. These players are professional and they give their best. If I see that they are tired, I would change them. I'm very happy with their performance. I can't ask for anything more."
"It was not easy tonight. We have 6 games in a row away. We travel everywhere by bus and it's very hard. To the players credit, they hang in there and give their best for 90 minutes and we win the game," he added.
Perak will now look to secure top spot in Group B in the remaining two matches, which would see them avoid playing against fellow Ipoh-based side PKNP FC in the quarter final stage.