World Cup
Donald Trump's meddling is more likely to sink U.S. World Cup hosting hopes than help them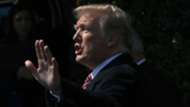 Donald Trump's sudden interest in soccer — and specifically the U.S. joint-hosting bid for the 2026 World Cup — doesn't appear to be going away, and what the American president may consider attempts to help the cause could wind up turning into a diplomatic own goal.
The U.S. joint bid with Mexico and Canada is facing surprising competition from its lone challenger for the 2026 World Cup, Morocco, with both bids heading into the final month of lobbying to secure hosting rights.
FIFA will vote on the hosting rights on June 13 in Moscow. Issues with Morocco's bid, from concerns about the construction of costly new stadiums destined to become white elephants, to questions about the country's laws against homosexuality, appeared likely to give the edge to the North American bid heading into the final weeks.
Trump's recent public foray into the World Cup bidding process could complicate matters for the North American bid, with his comments appearing to fall dangerously close to the very kind of government interference FIFA bylaws forbid.
"I hope all African countries and countries throughout the world, that we also will be supporting you and that they will likewise support us in our bid, along with Canada and Mexico, for the 2026 World Cup," Trump said on Monday. "We will be watching very closely, and any help they can give us in that bid we would appreciate."
Trump's comments, which came during a joint-White House press conference with Nigerian president Muhammadu Buhari, followed a tweet last Thursday in which Trump issued a thinly veiled threat against those who wouldn't support the U.S. joint bid.
"It would be a shame if countries that we always support were to lobby against the U.S. bid. Why should we be supporting these countries when they don't support us (including at the United Nations)?" Trump's tweet read in part. 
Trump's clumsy attempt at exerting some influence into the bidding process is a bit misguided considering the voting is handled by the soccer governing bodies of the voting nations, and not by those nations' governments.
His words aimed at African nations are likely to fall on deaf ears considering Morocco has long been expected to have the backing of its neighbors on the continent. Interestingly enough, Trump's comments came after, and not during, the recent visit to the United States by French president Emmanuel Macron, whose nation is a confirmed supporter of Morocco's bid.
What's the motivation behind Trump's sudden involvement? It's difficult to imagine a scenario where the bid committee asked for the public shows of support. They surely know the risk involving Trump carries with it.
The U.S. has put together a STRONG bid w/ Canada & Mexico for the 2026 World Cup. It would be a shame if countries that we always support were to lobby against the U.S. bid. Why should we be supporting these countries when they don't support us (including at the United Nations)?

— Donald J. Trump (@realDonaldTrump) April 26, 2018
Perhaps Trump's interest is as simple as seeing an opportunity to secure some political points with very little actual investment. By jumping in the way he has, he can capitalize on whichever outcome takes place in Russia in June. If the U.S. joint bid is chosen, Trump will most assuredly take credit for helping secure the necessary support. And if the U.S. joint bid is defeated by Morocco, Trump will use the defeat as ammunition to go after any Morocco-supporting countries he wants.
Trump's policies and rhetoric since becoming president — from the highly criticized legislation banning visitors from several Muslim-majority countries, to his reported critical comments of African countries — have not helped the perception of the United States around the world. This was a concern of U.S. Soccer officials even before a decision to bid on the 2026 World Cup was made.
"I think the world's perception of the United States is affected by who's in the White House, yes, and so it has some bearing, sure," former U.S. Soccer president Sunil Gulati said in 2016, when Trump was a presidential candidate.
"We're going to bid for a World Cup if we think we're going to be successful. I think whether we can be successful in a World Cup bid, or LA in an Olympic bid, is affected by the world's view of our leaders. And not just the leaders of the soccer federation."
U.S. Soccer's decision to join forces with Mexico and Canada was believed to be brought on, at least in part, by a desire to show a more inclusive front in an effort to counter any negative effects of Trump's policies and how they affected worldwide perception of the United States. When the joint bid was announced it was believed to be a shoo-in, but growing anti-American sentiment has only served to help Morocco go from a serious underdog to a serious threat.
"This will be a tough battle," Gulati said of the bid process. "This is not only about our stadiums and our hotels and all that. It's about perceptions of America and it's a difficult time in the world. So, there's only certain things we control. We can't control what happens with the 38th parallel in Korea. We can't control what happens with embassies in Tel Aviv. We can't control what happens with climate change accords. We do the best we can.
"We have the support of Washington. We'll now have to go out and convince what will eventually be 104 voters to vote for us. This won't be easy."
It certainly won't get any easier if Trump continues to insert himself in the discussion, and continues to make unfortunate public proclamations. American soccer fans hoping for a successful World Cup hosting bid will be praying Trump's random interest will fade before any more damage is done.
As for those involved with the actual bid, it is a safe bet they will be sure to remind prospective voters that, while Trump is the U.S. president now, he won't be in charge in 2026.