Kevin De Bruyne
'De Bruyne can match Messi and Ronaldo' - Martinez hails Man City star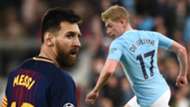 Kevin De Bruyne's form at Manchester City can see him reach the levels of Lionel Messi and Cristiano Ronaldo, says Roberto Martinez.
The Belgian has been a talismanic figure for the Premier League leaders this season, contributing three goals and nine assists across all competitions.
Man City -1 at 4/5 v Leicester
He has often been the man for the big occasion, with former Barcelona boss Pep Guardiola once again bringing the best out of a top creative talent.
The Catalan once did likewise with Messi at Barcelona, while competing against Real Madrid superstar Ronaldo, and Martinez believes De Bruyne is capable of joining that duo at the top of the global game.
"Absolutely [he can]," the Belgium national team head coach told ESPN FC.
"I think when you see the players that you mention [Messi and Ronaldo], obviously you have to become consistent with your performances in order to reach that level. That happens over the course of a few seasons.
"The level of performance that Kevin is having this season and the level of performance he had last campaign shows you that he has the potential of reaching those highs. And there are not many players that you could say that about."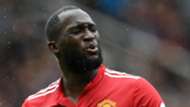 While De Bruyne is enjoying a purple patch in Manchester, across the city a fellow countryman is enduring a barren spell.
Romelu Lukaku made a bright start to life with Manchester United after sealing a £75 million summer transfer, but he has since gone seven games without a goal to face some uncomfortable questions.
Martinez said of the out-of-sorts 24-year-old: "I think Romelu is an out-and-out goal-scorer and his numbers reflect that.
"Only elite footballers get anywhere near his return in terms of goals so far in the Premier League. He'll tell you he's obsessed with the game, he wants to become better and work hard to fulfil the enormous potential that he has."
The former Everton boss added on the striker's career path, which has lifted him under the brightest of spotlights at Old Trafford: "He needs to be given a path and I think that path now is the move he had from Chelsea to West Brom, from West Brom to Everton and then after playing in Europe for Everton in an important role, going into Manchester United in a team that you're always expected to win; I think it's been a really interesting stage or path for Romelu.
"Through that path you're going to have good moments, bad moments, but I think we're all aware that the enormous talent that he has in front of goal will allow him to go through any bad spell."
De Bruyne and Lukaku currently form part of Martinez's plans as Belgium prepare to take in friendly dates with Mexico and Japan during the international break.