African All Stars
Davide Zappacosta performance puts Victor Moses under pressure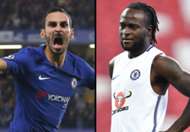 ---
COMMENT 
---
You can imagine that one or two Chelsea fans would have taken to Google on deadline day to learn about one of the club's new signings.
After news broke that the English champions had agreed a deal to sign Davide Zappacosta from Torino in a deal worth just over £20 million, a legion of Blues fans could have been forgiven for taking to YouTube to try and find out what kind of player they'd acquired.
Antonio Conte had wanted to beef up his squad all summer, he wanted a competitor for Victor Moses, and he's certainly got one in Zappacosta. 
On the basis of his cameo against Leicester City and his impressive Uefa Champions League debut in the 6-0 demolition of Qarabag, maybe the Italian coach has found more than a 'competitor' for the Nigeria wideman, perhaps he has found a replacement.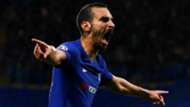 Of course, it would be unfair to Moses if he isn't given a fair crack at being the primary starter at wing-back after the Italian's early impact - including his stunning goal against the Azeri champions.
A little under a year ago, Moses had just begun to make the position on the right his own, before steadily becoming a key man in Conte's fine side. He excelled at stretching the play, running at defenders with pace and, on occasion, scoring decisive goals. On his day, coming from deep, he appeared unplayable.
However, despite all of his qualities, questions could still be asked about Moses's contribution in the final third; since the beginning of last season, Alonso has scored eight goals and contributed three assists in the Premier League, while Moses - despite being nominally a more attacking player - has contributed two assists and scored three. 
The evidence of Zappacosta's performance against Qarabag, when he added the Blues' second after half an hour, and also contributed an assist, suggests that he may offer the offensive efficiency that too often eludes Moses.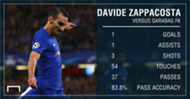 Beyond his decisive contributions against Qarabag, Zappacosta also made a plethora of dangerous runs in behind from his position on the right, and always looked positive whenever he had the ball.
His goal was a sumptuous effort, and while there seemed to be an element of luck in the final execution, the run prior to that sting of a strike made it even sweeter.
The limited quality of Tuesday's opponents at Stamford Bridge probably suggests it's too early to start getting carried away, but Zappacosta has thrown down the gauntlet, without a shadow of a doubt, and appears to have the quality to be a starter for the Pensioners.
Will Moses up his game to see off the challenge of a new rival, or was Conte's decision to turn to Zappacosta against Qarabag the first step in the Italian opting for his compatriot as first choice?