African All Stars
Could Wilfred Ndidi's disciplinary issues derail Nigeria's World Cup chances?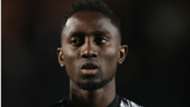 ---
COMMENT    By Solace Chukwu    

Follow on Twitter
---
For all that the build-up to a World Cup is over a four-year span, some of the key decisions that shape it tend to have a distinctly short-term basis.
It explains why a consistent 15-goal-a-season striker is less likely to be picked than one who plunder thirty in the season immediately preceding the Mundial. It goes against the widely-held belief: class may be as immutable as it is nebulous, but the World Cup is held over four weeks in the summer. Unlike a league campaign, it more readily rewards short bursts of well-timed form.
So, as the tournament draws closer, the performances of Super Eagles players will understandably come into greater focus. All that credit accumulated over the course of qualifying will slightly diminish in relevance against the germane question: can they flip that switch at the right time?
There are few Nigeria internationals in greater credit than Wilfred Ndidi. Since his debut in August 2015, the 21-year-old has arguably been the Super Eagles' most consistent player in terms of performance.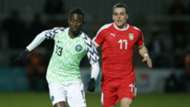 His introduction into the starting lineup in midfield coincided with an upturn in defensive security: Nigeria would not concede from open play for the rest of the qualifying series following their 3-1 victory over Algeria.
Yet, there lately has begun to seep into his play a certain air of raggedness that is enough to set alarm bells off.
In the friendlies against Poland and Serbia, while his length of limb was predictably to the fore in fractious midfield battles, he played well below his standard: that little bit slower in making decisions, less pragmatic in his use of the ball; a grey, ectoplasmic version of his usual buzzing self.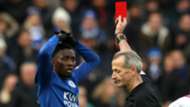 That appearance of running through treacle was again evident at the weekend, as he received his marching orders in Leicester City's 2-0 win against Huddersfield Town.
Granted, the second yellow was extremely harsh, seeing as there was minimal contact in the coming together. However, if he felt hard done by this time, he was without a doubt fortunate not to give away a penalty or be sent off four weeks earlier against Bournemouth.
The simplest explanation comes when one looks at his minutes.
Only 17 players have played more Premier League minutes this season; six are goalkeepers, which is easy enough to understand. However, the interesting stat is that, in spite of two red cards, Ndidi's minutes still feature in the top 20. No other player in that group has been sent off even once.
Fatigue would explain his slower, less patient reactions, and it is more than merely the minutes.
His role for the Foxes is so energy-intensive, especially as he often partners the imposing but less mobile Vicente Iborra. This requires him to get through a more work than one might expect, more so in a two-man midfield.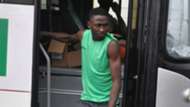 What, though, could this portend for the World Cup in Russia?
If fatigue is beginning to set in now, it will be even worse at the end of the Premier League season. Indeed, it has been the bane of many a World Cup: players arrive knackered from a gruelling club campaign, and are unable to perform at anything close to their level.
That may be something Gernot Rohr grapples with where Ndidi is concerned. If his discipline and temperament cannot be relied upon, it could derail whatever chances of progression the Super Eagles harbour. Two bookings in succession could easily rule him out of a crucial encounter, thereby adding another layer of difficulty, a little more weight to the boulder this young team has to push up the hill.
It would perhaps be beneficial for Rohr to simply rest him for the June friendlies against the Czech Republic and England. That would serve the dual purpose of giving him a breather, coming off, as he is, his most rigorous season as a professional; as well as trialing other combinations in the event of his unavailability in Russia.
Considering how crucial he is for the system, it would be a small sacrifice for a fully alert Ndidi. It could well prove the difference between elimination and advancement from Group D.