Chelsea
Conte dismisses Mourinho feud as 'a stupid issue'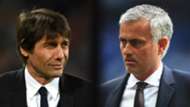 Chelsea head coach Antonio Conte has dismissed the idea Manchester United manager Jose Mourinho is starting to prove a distraction.
The former Juventus boss this week instructed Mourinho to "think about his own team" after he referred to managers who "cry" about injury problems.
However, when pressed about the idea of a simmering feud ahead of Chelsea's game against Watford on Saturday, Conte insisted it is "stupid" to focus on the matter.
Chelsea 15/2 to beat Watford 2-1
"Every manager has to talk about his job, himself, his team, his players. Not the others," Conte told a news conference on Friday.
"Every coach must be focused on his own work. It's the best way.
"I think these are stupid things, a stupid issue. It's fun to see your interest in this! I'm surprised."
The matter had arisen on Wednesday following comments made by Mourinho after United's 1-0 victory away to Benfica in the Champions League.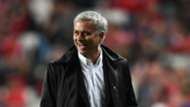 Speaking in Lisbon after the match, Mourinho said: "I never speak about injuries. Other managers, they cry, they cry, they cry when a player is injured."
Told of Mourinho's comments on the same night after Chelsea had drawn 3-3 at home with Roma, Conte was unimpressed .
"I think he has to think about his own team and start looking at himself, not others," the Italian said.
"I think that a lot of the time Mourinho has to see what happened at Chelsea."
When asked what he meant by that, Conte doubled down, saying: "A lot of the time, also last season."
N'Golo Kante, Danny Drinkwater and Victor Moses are sidelined for Chelsea, while David Luiz (calf) and Tiemoue Bakayoko (groin) picked up injuries against Roma.