World Cup
CONCACAF president: USA, Mexico and Canada aiming for joint 2026 World Cup bid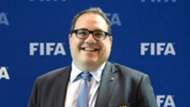 The United States, Mexico and Canada are aiming to submit a joint bid to host the 2026 World Cup, CONCACAF president Victor Montagliani has confirmed.
DeLaGarza delivering after Houston move
U.S. Soccer president Sunil Gulati had previously expressed openness to the idea of bidding alone or submitting a joint bid, but Montagliani's remarks are the clearest indication yet that CONCACAF will look to share hosting duties for the 2026 tournament.
"Canada, the U.S. and Mexico are aiming for a joint bid — the idea has been around for a while, discussions are continuing and it is a very exciting proposition if it comes to fruition," Montagliani told The Guardian. "We have had nothing but positive remarks about it and it is a very strong sign of what football can do to bring countries together."
The 2026 World Cup will be the first edition in the new 48-team, 80-game format. FIFA announced last year that bids will be evaluated from January 2019 to February 2020, with the decision coming in May 2020.
Mexico hosted the World Cup in 1970 and 1986 before the U.S. hosted the 1994 edition — the most recent World Cup in CONCACAF. Canada, which has never hosted the World Cup, made its only appearance at the 1986 tournament.