Mexico
CONCACAF nearing agreement on 'League of Nations'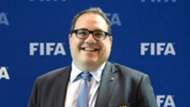 CONCACAF is nearing a deal that will create a "League of Nations" competition for its 41 member federations, the confederation president said in an interview Friday.
The decision would all but eliminate friendlies for the regions' international teams, and is fashioned after UEFA's Nations League, which is set to begin in 2018. That Nations League was likely to leave the United States and Mexico with fewer scheduling options for international breaks.
President Victor Montagliani told Reuters the overall idea has been generally accepted and that a format has been decided, though it still needs to be shown to CONCACAF's member federations.
MLS Talking Points: Galaxy need to step up
"There has been overwhelming acceptance that it is a great idea and the way we need to go," Montagliani told Reuters. "There are a few formats that we have looked at and we have had various members coming back with ideas. We have a format that we have landed on and we will show it to our members first."
Montagliani is hoping to secure the financial aspect of the new league once it is agreed upon, which Reuters reports could happen as early as this weekend.
"We need to look at what needs to happen in the next little bit for us to be able to monetize this and execute it in a timely fashion," Montagliani said.
"From a football and technical side for me it is a no-brainer, but now the next evolution is the business side of it. But at the congress we want to finalize the technical side of it."
The CONCACAF president is hopeful the competition will boost the quality of the teams in the region. While more games against teams like the U.S., Mexico and Costa Rica would likely benefit the lesser teams of the confederation, Montagliani believes it could also be a boost to CONCACAF's bigger teams as well.
"The truth of the matter is that a lot of the friendlies our nations play, including the bigger nations, are a waste of time, let's be honest, a lot of them are not quality," he said. "You are better off playing a game that actually means something (even) against an opponent, that on paper anyway, may not be as good."
Three thoughts on the USWNT win over Russia
Montagliani also confirmed it would be a requirement for all nations to participate.
"Once this is an official competition it is not like you will have a choice to opt out," he said.