Mamelodi Sundowns
Comment: Could this be Pitso Mosimane's last Caf Champions League campaign with Mamelodi Sundowns?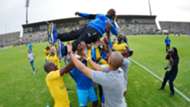 Mamelodi Sundowns head coach Pitso Mosimane recently revealed that he was considering taking a break after spending five years at the club.
The 53-year-old is arguably one of South African football's most decorated coaches as he claimed his third league title at the helm of the Tshwane giants this past weekend, and he is undeniably a symbol of longevity at a time when spending back-to-back seasons at a club is seen as a privilege.
But with the toll that football takes on coaches, just like the players, sometimes the mind and body just need a break, that is why Goal asks the question whether or not this could be the former Bafana Bafana mentor's last African safari.
Sundowns begin their Caf Champions League group stage journey on Saturday night as they look to take on champions Wydad Casablanca in a game that has a cloud of vengeance looming.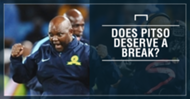 In last season's edition of Africa's most prestigious inter-club competition, it was Sundowns who bowed out in the quarterfinals to the Moroccans, who eventually went on to win the competition and reach the Fifa Club World Club later in 2017.
Mosimane has always been a coach who enjoys being at the top and he will certainly have a point to prove as he looks to dethrone Wydad from their perch. After all, this is the same coach who was determined to show AS Vita what they were capable of following murmurings regarding Sundowns' backdoor entry back into the tournament.  
If this is achieved and Sundowns do go on to win the title, it may be motivation enough for Mosimane to step down.
After all, Mosimane did more than just bringing success to Chloorkop, but he has built himself a legacy where the fruits are likely to be enjoyed by his successor and many others for many years to come if he's to go.
Nonetheless, if there is one wish that Mosimane will look to achieve before stepping down, it would be reaching the lucrative Club World Cup one more time. Mosimane has continuously sung his praises following the Brazilians' participation in the 2016 edition, and he may feel that he still has some unfinished business on the world stage.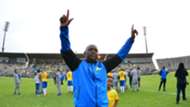 While a place among the world's elite is still a some way off after winning the league yet again, Mosimane may feel that he has achieved everything he possibly could. Mosimane has always been a dreamer which is good in its own right, as reality isn't all it's made out to be, but in the case of Mosimane and Sundowns, this ambition has been a breath of fresh air.
Sundowns have become well known on the continent thanks to their coach's ambition, hunger and self-belief and although he is yet to enjoy the same success on the continent like many of his peers, what he has achieved will be something that South African football coaches will look up to for years to come. 
Nevertheless, while many would question Mosimane's decision if indeed he does step down, some can easily understand his thought process. Perhaps a sabbatical is just what Mosimane needs to do in order to recharge the batteries and bring up the newest crop of South African youngsters.
Finally, Mosimane has tasted the ups and downs of SA football and has earned the respect that he deserves, Mosimane has a choice of being great or be regarded as a legend of the South African game, and while greatness can be determined by a single moment of success, legendary status can only be earned by consistent success.