World Cup
Colombia coach Pekerman: No magical formula for Senegal win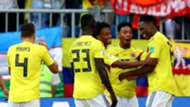 Colombia coach Jose Pekerman has described Thursday's triumph over Senegal at the World Cup as "no coincidence".
Los Cafeteros rose to the challenge to confirm their place in the round of 16 after a 1-0 victory at the Cosmos Arena in Samara. 
Barcelona defender Yerry Mina headed home the winner from a corner in the 74th minute. 
"There was a strategy at different times of the match," Pekerman explained at the post-match conference.
"There isn't a magical formula. There's no one answer to explain why a team beat another. 
"I think we worked the set-piece angle very well. 
"What happened was not a coincidence. We have excellent players both with their feet and their head and we had the right moves to throw Senegal off balance. 
"That's what happened with the goal, then there were worrying moments, especially in the first half when Senegal played very well. 
"It was hard for us to keep our identity. Senegal copied a lot of what we saw in the match against Poland and they learnt from that experience."
Third on the log in Group H ahead of the decider, Los Cafeteros ultimately finished top of the table, two points above second-placed Japan.
"I think our strategy was quite positive," Pekerman added. 
"We managed to ward off four attackers with a lot of success in a very tough match. So despite their power they didn't get many clear goalscoring opportunities."
By the win, Colombia have set up a round of 16 date with 1966 champions England on Tuesday.
Los Cafeteros, who made their World Cup debut in 1962, are hoping to better their quarter-final berth achieved in Brazil four years ago. It remains their best ever finish at the tournament.