Manchester City
City get Manchester derby redemption with United humbling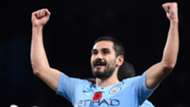 It was a defeat that had no tangible impact. When Manchester United came to the Etihad Stadium in April and shocked Manchester City with an impressive and unexpected comeback, it did stop Pep Guardiola's men winning the Premier League title that day, it just delayed the inevitable.
You could even argue that without that result City would not have been able to clinch their 100-point season with Gabriel Jesus' last-minute goal at Southampton, a moment that has gone down in the club's history.
But the game  did  matter, the defeat did sting. United fans argued that they spoiled City's party, City fans argued that they just had the party a week later. Both were right.
City fans ended the season far happier than any others, their team by far the best in England, but the way they had their dream scenario snatched from them by their bitterest rivals did, deep down, leave a sour taste.
And so for City fans on Sunday, when United returned to the Etihad, the emotional element mattered as much as the three points.
After all, just like last season, United were basically out of the title picture, and even with victory they could not have argued that they are the top dogs in Manchester. The balance has long since shifted, for various different reasons.
Guardiola insisted in his pre-match press conference that it is not the biggest game of the season. He is of the "it's only worth three points" school of thinking yet City fans gleefully took the opportunity to take it as a dig at United, a club-endorsed message that their rivals no longer matter.
Such is United's slump under Jose Mourinho it feels a bit like punching down when City fans highlight their shortcomings, but such is football rivalry.
But even so, the scars of April meant that victory here was even more important than usual. 
The way City, at full flow, let a two-goal lead slip last season meant not a single City fan, for all of the club's dominance, would take anything for granted this afternoon.
Especially given United's comeback exploits in recent weeks.
Yet for all the talk that Mourinho's men have turned the corner with their recent run of victories, they have offered their opponents so many chances before managing to strike late. Mourinho said his team need to "grow up" in that respect, yet with four days between the smash-and-grab win in Turin and Sunday's derby against the free-scoring, fast-starting champions, that is a lot of maturing to do in a short amount of time.
And so it proved when David Silva opened the scoring after 12 minutes. United had bravely tried to stop their opponents playing out from the back, as they love to do, but the Blues created three good openings even before Silva struck.
City, unusually, took their foot off the pedal before the break, meaning they missed out on the chance to set something of a record; had they made it 2-0 they would have scored 19 goals in the first half of games this season, as many as United have scored in total.
That didn't seem to matter when Sergio Aguero powered home just three minutes into the second half, but the ghosts of last season meant the City fans, for all their side's new-found authority, still feared the worst. Raheem Sterling, who missed two great chances to give City a 3-0 lead in April, missed a great chance to give City a 3-0 lead on Sunday.
The nerves were real and they turned to legitimate fears soon after. Romelu Lukaku had only been on the pitch for a matter of moments when he darted in behind and beat Ederson to the ball, winning a penalty. It is the second time in successive Premier League games that the goalkeeper, who was otherwise absolutely faultless with his distribution, has done that.
Anthony Martial scored from the spot and the jitters spread around Eastlands. Guardiola took the seemingly unusual decision of taking off Aguero and bringing on Gundogan. City looked like they were playing within themselves a little and at one stage their attack led to a cross into the box that Gundogan could only tamely jump in the vague direction of, highlighting Aguero's absence.
But then it all clicked into gear. City took their time, passing from one side to the other. And then back to the other side. Back to the defence, back out to the side. Bernardo Silva fired the ball into the box but this time Gundogan knew exactly what to do with it. He ghosted in behind Nemanja Matic, who had one job and fluffed it, took the ball down and kept his composure to beat David De Gea.
That was that. The fears of yet another turnaround, another heartbreaking afternoon, all but vanquished.
With victory City go back to the top of the table, and look in ominous form. The title was all but won in April but we are only in November and for all City's dominance there is a long, long way to go.
That is of course part of the reason why City fans so cherished this latest derby victory. This was a game that meant something. But after flirting with and ultimately exorcising the demons of last season, this will taste even sweeter.