Transfers
Forget Liverpool, Christian Pulisic makes right call with new Dortmund contract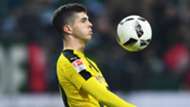 For an 18-year-old, Christian Pulisic was in an impressive position of power.
The U.S. international could have tried to force a move away from Borussia Dortmund. With a contract set to expire in the summer of 2018, Pulisic could have refused to take a new deal, and Dortmund likely would have cashed in on his value rather than losing him for nothing.
Dax McCarty trade ruthlessly pragmatic
There was smoke and, unlike many transfer rumors, there was almost certainly fire. Jurgen Klopp and Liverpool reportedly had come knocking with an impressive offer — absolutely unheard of for a teenage American — and despite Dortmund's claims it would not sell, Pulisic could have been tempted to make that deal happen.
Instead, Pulisic decided to remain with the German club, inking a new deal that ties him down until 2020.
While a move to England certainly would have excited American fans who can easily access the Premier League and Liverpool on a weekly basis, Pulisic is best served by staying put at Dortmund. And when you line up the pros and cons, it's easy to see Dortmund as a near-perfect situation for him.
Dortmund finished second in the Bundesliga last season. Granted, it was well off the pace set by Bayern Munich, but after a year in the wilderness, the club returned to its expected place near the top of German soccer. With that came a Champions League spot, which featured a chance for Pulisic to cut his teeth against the likes of Legia Warsaw and also an opportunity to make an impact against Spanish giant Real Madrid.
This season's performance won't deliver Dortmund a title — the team's too far off the pace of both Bayern Munich and RB Leipzig — but a battle for a European place remains. Dortmund sits fourth in the table, one point off third but just two ahead of sixth. There is plenty on the line for the side, requiring Pulisic to deliver under pressure and prove himself worth a spot in head coach Thomas Tuchel's XI. And to this point, he has.
This season, Pulisic has played in 13 league games, including nine starts. That's more than players like Mario Gotze, Shingi Kagawa and Andre Schurrle. Part of that is due to injury as numerous Dortmund players have missed time this season.
However, there is no denying Pulisic has earned his place on merit. In the Bundesliga, he's scored two goals and delivered four assists, which is tied for second on the team. He's also created 11 chances along the way, which is tied for third on the team. He also played in all six of the club's Champions League games, starting five of them. There he's added an assist and seven chances created, which is fourth on the team.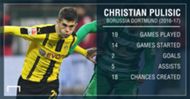 But while Pulisic has earned his place thus far, his position is not guaranteed. With those aforementioned attacking midfielders, and fellow teenage prodigies Ousmane Dembele and Emre Mor on the squad, a dip in form or quality in training would see Pulisic dropped from the first team.
Meanwhile, a move to Liverpool would have offered Pulisic a chance to develop under a manager who has a good reputation for nurturing young players in Klopp, but also would have seen the teen face an uphill battle for minutes for the rest of the 2016-17 season.
Liverpool's attacking trio of Philippe Coutinho, Roberto Firmino and Sadio Mane has been lethal this season — so much so that star striker Daniel Sturridge cannot find his way into the starting XI when all are available. Neither can the talented Divock Origi.
Opportunity would have been there for Pulisic while Coutinho was sidelined in December and with Mane away with the African Cup of Nations, but the chances would have dried up once Mane returns. With no European soccer and just league and FA Cup games for Liverpool, Pulisic would have likely been relegated to a spot on the bench. He may have become an impact substitute for Klopp — but it's hard to argue he'd be better served in that role than as a potential starter for Dortmund.
And the situation may not have improved in 2017-18. Liverpool's recent dip in form has all but ended its title hopes and a Champions League place for next season is far from guaranteed. If none of the front three depart in the summer, Pulisic again might have found minutes on Merseyside hard to come by.
Meanwhile, he would have left behind a coaching staff that believes in him, fans who already support and rate him, along with his father and his cousin — a support system that can only help a teenager making his way in a foreign environment. 
At just 18 years of age, future opportunities in England and elsewhere will arise if Pulisic's play merits it. But a jump too early can see a player stagnate.
Oftentimes those decisions involve players wanting to move because a big club offers salary, European soccer and a chance for titles. But at Dortmund, Pulisic has already broken through at a big club. Why leave it when the other options offer very similar upside with greater drawbacks?
Perhaps then it wasn't such a hard decision for Pulisic after all. All it took was some common sense. But in an age when common sense doesn't always seem to be common, the teenager deserves credit nonetheless.