China PR v India
Indian National Football Team: Know Your Rivals - China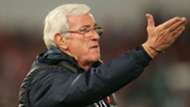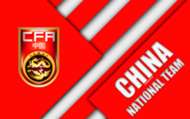 Country:   China
FIFA Ranking: 76

Nickname: Team Dragon

Last official match played:    Bahrain 0-0 China PR (10 Sep 2018)

Coach:   Marcello Lippi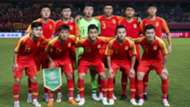 A member of the Asian Football Confederation (AFC), China is a regional powerhouse in football. After former Italy coach Marcello Lippi took over in October 2016, China's performance has seen significant improvements. They almost qualified for Russia 2018 even despite remaining winless in the first four matches of the final qualifying stage. 
Under the World Cup-winning coach, the team reached new heights when they beat South Korea 1-0 in the qualifiers. 
In 2018, China have played six matches, won twice, lost thrice and drew on one other occasion. They won against Myanmar (1-0)  and Thailand (2-0) in friendly encounters whereas suffered heavy losses to Wales (6-0) and Czech Republic (1-4)  in the 2018 China Cup. Their third defeat came against Qatar (1-0) in another friendly. 
On September 10, in their latest friendly against Bahrain, they were held to a 0-0 draw. 
Lippi, primarily sets his team up in a 4-4-2 formation but have shown flexibility to shift to a 4-2-3-1 (against Czech Republic) or a 4-3-3 (against Myanmar). Even in a more traditional 4-4-2 formation, the Italian prefers to have a double pivot. In Zheng Zhi, he has found a veteran defensive midfielder who does that job with perfection. 
China's most lethal player Wu Lei plays on the left flank who ticks all the boxes for an ideal goal-scoring winger. Therefore it is not surprising that most of their attacks take shape through the wings. 
In Yu Yang and Lingpeng Zhang, they have got a stable centre-back pairing. If the coach decides to field a three-man defence then they are joined by Guangzhou Evergrande Taobao defender Xiaoting Feng. Consequently, the wing-backs are expected to provide width and support the forward line. 
China have been placed in Group C in the upcoming Asian Cup alongside giants South Korea, Kyrgyzstan and Philippines. Their best finish in the continent's marquee tournament came in 1984 and 2004 when they bagged the silver medal on both occasions. 
In 2002, China made history as they managed to qualify for the final stage of the FIFA World Cup but lost all their group stage matches. 
But Team Dragon boast of an impressive record against India as they have won 13 times in 18 encounters while drawing the remaining games. In those 18 fixtures, China have pumped in 33 goals whereas India have managed to score only eight times. 
India's biggest defeat came in 1974 Asian Games when the Chinese handed a 7-1 thrashing. In their last senior team meeting 21 years ago in Nehru Cup, China won 2-1. Bao Wen Jie  and Huang Yang scored for China while Baichung Bhutia netted the solitary goal for India. 
After taking on India on October 13, they will next face Syria and Palestine on October 16 and November 20 respectively as part of their preparations for Asian Cup 2019.  
 
Gao Lin:  The 32-year-old Guangzhou Evergrande Taobao F.C. striker is expected to lead the Chinese attack in the upcoming friendly against India. He is one of the most experienced players in this squad as he already has a 100 caps to his name. With 20 goals to his name, he is China's sixth highest goal scorer.  He has been in prolific form in the Chinese Super league as he has found the net nine times in 22 matches and has also has four assists.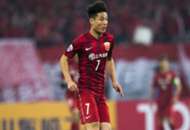 Lei Wu  : The 26-year-old Shanghai SIPG player can play at a variety of positions in the attacking third. He has been in superb form in the Chinese Super League as he has scored 21 goals in 23 appearances while assisting 9 times. He has scored a goal in every 96 minutes and is the current top-scorer of the league. 
Goalkeepers:  Zeng Cheng, Yan Junling, Zhang Lu
Defenders:  Zhang Linpeng, Feng Xiaoting, Li Xuepeng, Yu Hai, Liu Yiming, Wang Tong, Yu Yang
Midfielders:  Zheng Zhi, Yu Hanchao, Zhao Xuri, Jin Jingdao, He Chao, Piao Cheng, Chi Zhongguo, Wu Xi, Mirahmetjan Muzepper
Strikers:  Gao Lin, Wu Lei, Xiao Zhi, Yu Dabao