Zlatan Ibrahimović
Chelsea striker Batshuayi pays tribute to injured Ibrahimovic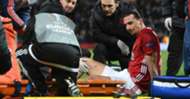 Chelsea striker Michy Batshuayi has paid tribute to injured Manchester United forward Zlatan Ibrahimovic after the club confirmed the Swede would miss the rest of the season.
Kante named PFA Player of the Year
The 35-year-old, who has scored 28 goals in his debut season for the Red Devils, was injured during last week's Europa League quarter-final second-leg win over Anderlecht.
Batshuayi has not enjoyed as much success during his maiden campaign in the English top tier, having failed to make a single Premier League start under Chelsea boss Antonio Conte.
The Belgian has struck four goals in seven cup appearances, however, and once in his 17 substitute league outings.
"#NoMatterTheColor wishing @iamzlatanibrahimovic a speedy and perfect recovery," Batshuyi posted on Instagram in support of Ibrahimovic. "Knowing the guy, it should be a child's play #ZlatanFact #respect"
Zlatan also took to social media to discuss the injury, thanking supporters for their support during a difficult period.
"First of all, thank you for all the support and love," he said. "Its no news I got injured so I will be out of fotball for a while.
Premier League Team of the Year
"I will go through this like everythings else and come back even stronger. So far I played with one leg so it shouldn't be any problem. One thing is for sure, I decide when its time to stop and nothing else. Giving up is not an option.
"See you soon."