Manchester United
Carrick not eyeing Mourinho's job at Man Utd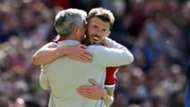 Michael Carrick is not setting his sights on Jose Mourinho's job at Manchester United, with there no desire on his part to step up out of an assistant role "any time soon".
Having taken the decision to head into retirement at the end of the 2017-18 campaign, the former Red Devils midfielder now forms part of the coaching staff at Old Trafford.
He has been offered a baptism of fire in his new post, with United's struggles in 2018-19 seeing serious questions asked of Mourinho and his ongoing presence in the dugout.
Various candidates have been mooted as possible successors to the Portuguese, but Carrick insists he is not looking to succeed his mentor a few months into a steep learning curve.
The ex-England international told The Times: "I don't want to throw that out there and say I'd want to be United manager.
"It would be amazing to be a manager, but I am not in a position to call that.
"It's not fair or respectful to be going down that route at this stage.
"It's gold dust having Jose there to draw on what he's doing and learn from him.
"I'm really enjoying it. It's a role that I never thought at this stage of my coaching career that I would get.
"I'm not there as an intern to try and just learn. I'm there to do a job as well and at the same time try to improve myself.
"It's kind of about learning what works for certain lads. Do they need an arm around the shoulder or a bit of a dig in the ribs to liven them up? Those are the skills of coaching and managing.
"I'm not blasé enough to think that I'm going to be a manager. The truth is: I don't know.
"I'm at that stage now where I'm thinking: 'Will he make it or will he not?' Everyone can't make it. I'll just have to give it my best shot and see where it takes us.
"I'm not chasing it. I'm in a fantastic position right now. I'm not looking to get out of that position any time soon because I want to do something else."
Carrick hung up his boots at United following a 12-year stint at Old Trafford which delivered 464 appearances and a number of major honours, including five Premier League titles and a Champions League crown.