Lonestar Kashmir
Football development in Kashmir hindered by lack of infrastructure and professionalism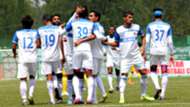 On March 28, all roads in Srinagar led to the TRC Polo Synthetic Turf Ground as Real Kashmir was hosting local rivals Lonestar Kashmir in the second division I-League. There is always an added tension in the air when these two teams meet and the latest encounter was no exception.
Danish Farooq of Real Kashmir opened the scoring in the 39th minute and there was a deafening scream of 'GOOOAALL' from one side of the gallery, while the other half was stunned into silence. When Aakif Javaid equalised for Lonestar, the fanaticism was even more as their opponent fans had set the benchmark and they must beat it.
"Yeh bohot khatarnak match hai. (This is a very dangeous match). Khoon nikal jaye, jaan chali jaye par jeetna zaroori hai. (We are ready to bleed and even accept death but we have to win)," said Farooq after the match in a conversation with Goal. In the 72nd minute Atinder Mani, nicked in a header from close range which settled matters in favour of Real Kashmir in the Srinagar derby for the third consecutive match at a national level competition.
But just two days after the match the valley trembled with the death of 13 militants, three Army jawans, and four civilians in three separate incidents in Anantnag and Sophian districts of Kashmir. Internet services were snapped and the troubled areas was in a state of complete lockdown. Training sessions were cancelled and a few local matches were postponed. Players were put up in hotels close to the TRC Turf Ground, the stadium in Kashmir which plays host to both Real Kashmir and Lonestar Kashmir.
"The team manager called me up in the morning and asked me to stay in a hotel near the ground as the situation is not safe to travel to downtown," says a player of Real Kashmir. "I was aware of these kinds of situations and therefore I stay in a place just next to the stadium, from where I can easily walk down via by-lanes to practice," says another player who hails from a different state and stays in Kashmir for professional commitments. They were nonchalant with their statements as these incidents have become run-of-the-mill happenings.
Most of the native players who ply their trade in the professional clubs come from the downtown area of Srinagar and to reach stadium they start immediately after the Fajr Namaz to avoid curfew.
"Sometimes the forces let us go when they find us in jerseys and carrying football kits. But occasionally they would also stop us and frisk our kits and even check our boots. So many a times we run the risk of getting late to practice. Therefore, I start as early as 5:00 am. to avoid curfew which generally sets in from six," informs the player as it is part od the protocol in the valley. 
In a cricket crazy nation like India, football remains the dominant sport in Kashmir. Ishfaq Ahmed, Mehrajuddin Wadoo, Wasim Feroze are household names in J&K as they have made it big in Indian football and continue to inspire amateur players who are struggling to develop because of lack of infrastructure. The TRC Turf ground remains the only stadium in the entire state which boasts of modern training facilities. On matchdays, all training sessions end six hours prior to kick-off, which severely hampers the regular preparations of many football clubs.
"There is a lot of enthusiasm amongst the youth regarding football. Everyone wants to be successful like Ishfaq bhai and Mehraj bhai. Every derby is soldout as the fans are very passionate about their teams.  But we need proper infrastructure right from grassroots levels. In schools, although there is a sports curriculum, nobody is serious about it.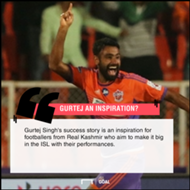 "Even at the senior level, we face a lot of trouble. If TRC remains closed then we are left with no other option but to go and practice on some other ground where the pitch is not that good. Many players suffer injuries just because of training on a bad pitch. But we have to practice if there is a match knocking on the door," says Tariq Mir of Real Kashmir. 
Players like Mani and Mir have spent loan spells outside of Kashmir as both of them have donned the colours of Kolkata based Md. Sporting Club. These players want to break into the national scene by performing well in the second division. They have Gurtej Singh as an inspiration who had a stellar season with FC Pune City in this season's Indian Super League (ISL) whom he joined after a stint with Fateh Hyderabad. 
"I want to join an Indian Super League team. They are professional sides and provides a player with every modern amenities to train and develop. My agent has begun to approach some of the clubs for the next season," says Mani who has got a knack of scoring vital goals in crunch matches. Apart from his recent winner against Lonestar, he also bagged the winner against Dempo SC when the Goan side visited the valley in 2016 to play a friendly. 
Kashmiri football needs systematic long-term planning guided by an expert vision to infuse life to a rusty state league system. It is high time to channelize the football fanaticism in Kashmir to churn out future stars of the country. Only a collaborative effort from the Jammu and Kashmir Football Association and all the primary stakeholders can create and sustain a league system which will offer a competitive platform to the local talent. For inspiration, they can always look up to the North East states of Meghalaya and Mizoram.