East Bengal
CFL 2018: East Bengal blossoming under Subhash Bhowmick?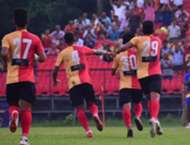 Another day brought another win for East Bengal as they registered a hat-trick of victories on Thursday against minnows Tollygunge Agragami in their fifth match of the 2018 Calcutta Football League (CFL) Premier Division 'A'.
Brandon Vanlalremdika, Joby Justin and Samad Ali Mallick where on target to take the Red and Golds to the top of the league.
The team has scored 11 goals in five matches and have not conceded a single goal so far (not counting the abandoned match at the start of their campaign). With only two foreign players in the starting XI and a young Indian striker upfront, it is indeed a laudable feat.
Before the match, Technical director Subhash Bhowmick had said that he was not satisfied with his side's performance and wanted them to play 'beautiful football'.
He had said, "I am still not happy with boys' performance. They are getting the results but they need to play better. Football is a beautiful game. I want them to play beautiful football."
After the match against Tollygunge, it is safe to say that the team indeed played beautifully, completely outclassing their opponents on the pitch.
From keeping the ball on the ground to utilising wing play, East Bengal did everything right. Mahmoud Al Amna and Kassim Aidara orchestrated the play from the midfield while Brandon Vanlalremdika and Laldanmawia kept pumping in inch-perfect crosses for the attackers.
Even the full-backs Lalram Chullova and Samad Ali Mallick were often seen overlapping and helping the wingers.
It has to be noted that with Samad Ali Mallick on the scoresheet yesterday, East Bengal now have seven different goal scorers in five matches. This clearly suggests that the Red and Golds are playing as a team and are not dependent on individual brilliance.
Also, the fitness of this team is something to be talked about. It is not easy to play on Kolkata pitched during the monsoon as the grounds are often heavy due to rainfall. The players have to be at the pinnacle of their fitness levels in order to play full 90 minutes on such pitches and remain injury free.
Overall, East Bengal are playing scintillating football and are looking unstoppable at the moment. They are well on track to bag their ninth consecutive CFL title this season.