Mexico
Brave Bermuda sends Mexico, Panama a message that Nations League won't be a breeze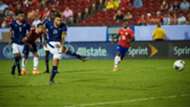 It was the 54th minute when we all felt those old floodgates might swing open.
Costa Rica had come out of the halftime locker room with a 1-0 lead and all the momentum, and less than 10 minutes into the second half, Elias Aguilar tried his luck with a low shot from the corner of the box. The Ticos went up 2-0, and it looked like Bermuda was toast. A typical Gold Cup blowout - a 3-0 or 4-0 loss - looked to be in the cards.
But Bermuda stubbornly held the floodgates closed. They never opened. Despite a weary-looking squad working in heat that Costa Rica manager Gustavo Matosas called "infernal" (the heat index was over 100 at kickoff), the islanders held tough. In fact, with Nahki Wells' penalty five minutes after Hernandez's goal, the game closed with Bermuda's first-ever Gold Cup point feeling far more likely than a Costa Rica romp.
A 2-1 final sent Costa Rica through to the knockout stage of the tournament ahead of next week's final matchday in group play, but the performance was a statement for Kyle Lightbourne's Gombey Warriors.
This is a British territory with a population of 70,000 - making it 100,000 people shy of reaching the total of the Dallas suburb in which they were playing. Bermuda's shock qualification to the Gold Cup was historic. The cherry on top would be an inaugural Gold Cup win, something that now feels achievable with a dead rubber against Nicaragua coming up on the final matchday of the tournament for the now-eliminated Bermuda.
"We obviously would like to finish the tournament with some sort of result. Nicaragua is a decent team. On their day, they could be very dangerous," coach Kyle Lightbourne said after the match. "We have to build for the Nations League because we're in a tough group with Mexico and Panama.
"But I think those teams, when they come to Bermuda: Be prepared for battle. Especially when they come to Bermuda. Be prepared for battle. We're going to battle."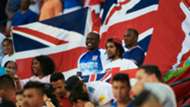 Thursday's showing left little doubt of that. Bermuda's population is tiny, but unlike many Caribbean countries that rely on English-born players representing their country through heritage, the bulk of players in the roster were born on the island. Who knows what adds the extra fight Bermuda showed in the final half-hour of their loss Thursday, but they were getting a boost from somewhere.
That's not to say this is a story of passion over performance. Bermuda has talent as well, and players who are in rhythm for professional teams. Wells scored seven goals in the English Championship last season. Towering center back and captain Dante Leverock is critical for Irish club Sligo Rovers. Reggie Lambe was a regular starter for League Two's Cambridge United. But local-based players like right back Donte Brangman and goalkeeper Dale Eve flashed skills as well.
"Extremely proud of my country, my team and the players that aren't in the best environments, for example, not professional environments who are some of the best players for us in the tournament so far," Wells said after the match. "I can just say I'm extremely proud of my teammates, people who worked very hard for this occasion who stood up and were our best players.
"Obviously disappointed, but it's a learning curve. It's new for me, new for our teammates and it's something we can build on when we compete against some very good nations."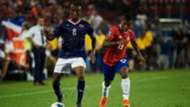 Bermuda has exceeded expectations, but that learning curve has, at times, still looked steep. Wells was in early but pushed his chance well wide of the goal instead of slotting home what would've been a stunning goal in the first five minutes. Lambe missed a golden chance in the first half after a deflected Wells effort fell to his feet.  The team's lack of depth makes it hard to put together full 90-minute performances. In the opener against Haiti, Leverock headed in the match's first goal just before the first half. Haiti tweaked its attack and ultimately emerged with the 2-1 win. Still, Bermuda is a team getting plenty of respect from other managers in the group.
"It's a team that didn't surprise me because Bermuda doesn't play football poorly," Matosas said. "They play really well, and if you look against Haiti, it's the same. The other day in Costa Rica they played really well."
The challenge now is to keep playing well, to get an historic win over Nicaragua and to keep getting better. Lightbourne knows his team likely will be relegated from Nations League A. Mexico and Panama were at the 2018 World Cup. Their footballing culture is much more developed, their pool to draw from much deeper. But Lightbourne is ready to set his team up to make life difficult on El Tri, Los Caneleros, and, he hopes, other Concacaf giants in the years to come.
"It's an opportunity for us as an association to grow," he said of the Gold Cup. "That was the main point of us making it this far. You always worry that a team like Costa Rica can blow you away in 20 minutes," he said. "But we managed the game in the right way, learned from the other night against Haiti. We learned.
"I'm proud of my team. I think people around the world will take notice of some of the Bermuda players, and - you know - small little country, but big hearts."