Premier League
Both Liverpool & Leicester should hang their heads in shame, says Carragher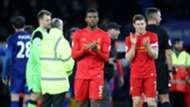 Former Liverpool defender Jamie Carragher feels that both Leicester and Liverpool should hang their heads in shame following Monday's 3-1 result at the King Power.
Leicester spark to life without Ranieri
A lacklustre display from the Reds, coupled with a spirited performance from the hosts, made for an exciting game of football, with the Foxes giving themselves some breathing space in the relegation battle.
And despite Liverpool being hugely disappointing in the clash, ex-Anfield icon Carragher believes that Leicester's spirited performance in the wake of Claudio Ranieri's sacking means that both sides should be taking a long look at themselves in the mirror.
"Leicester were absolutely superb tonight," the former Red said on Monday Night Football. "They won the game with energy, closing people down, being horrible and difficult to play against.
"But that's not tactics, that's not having great players. That's having something inside you. It is right that they are asked questions because it wasn't as though we were suddenly seeing 11 fantastic footballers, we were just seeing a team fully committed.
"I've been watching football for a very long time and I don't think I've ever seen a game where two teams should come off the pitch and hang their heads in shame: Liverpool for how bad they were and Leicester for how good they were on the back of how poor they've been, just through effort and commitment.
"We saw Jamie Vardy going down on the floor exhausted, but more through relief they'd got that win because they've been battered.
Liverpool reach new levels of embarrassing
"I've been a big part of that and that still doesn't change it for me. In some ways it may even reinforce that they haven't done enough for Claudio Ranieri."
Leicester now sit in 15th place in the Premier League, two points off the drop zone, while Liverpool sit in fifth, one point off a Champions League spot.