Simba
Bocco stars as Simba's unbeaten run continue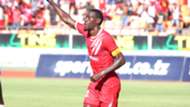 A John Bocco brace helped Simba to hold off a battling Njombe Mji side with a 2-0 victory at the Saba Saba Stadium.
The win helped Simba create a gap at the top of the Ligi Kuu table to three points ahead of their arch rivals Yanga who will play host to Singida United on April 11.
The Simba skipper converted a deflected Shiza kichuya cross in the 18th minute to make it 1-0. After going behind, the home side dominated Simba in possession and created several chances but couldn't take them.
The former Azam man capitalized on Njombe Mji's defensive errors to slot home for the second goal after the hour mark to ensure his side a comfortable evening.
Njombe Mji's David Obashi and Ethiene Ngladjoe both went close for the home side but they were denied by goalkeeper Aishi Manula.
Simba who are unbeaten in the last 21 games will next travel to Morogoro to play against Mtibwa Sugar on April 9.
Good news for Simba fans is the return of central defender Salim Mbonde and Rwandese midfielder Haruna Niyonzima who were long absentees due to injury.