Bundesliga
Boateng assesses Eintracht Frankfurt transfer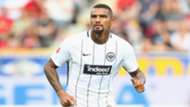 Eintracht Frankfurt attacker Kevin-Prince Boateng is happy with life at Commerzbank-Arena so far following a summer move from Spanish club Las Palmas.
The 30-year-old joined the Eagles on a three-year deal, shortly after announcing a premature termination of his contract with UD.
According to the German-born Ghana international, the switch was necessitated by his desire to "be close to his family".
"Absolutely. I'm very happy so far," Boateng told his club's official website when asked whether the transfer has lived up to his expectations thus far.
"There's always room for improvement, of course. My fitness is improving game by game, which should allow me to make decisive contributions on a more frequent basis.
"I'll be fully fit again soon, I promise you. The move [to Eintracht] is also paying dividends off the pitch as I'm now closer to my family.
"I'm really happy about that too."
Boateng has made eight league appearances for Frankfurt so far, scoring in the 1-0 triumph over Borussia Monchengladbach last month.
His exploits have helped the Eagles to wins in three of their last four games in Bundesliga, leaving them seventh on the log.
"In football, everything's easier when you win matches," Boateng added.
"The atmosphere in the changing room and in training is very good.
"I must say, however, that we never let our heads drop when we were losing games.
"We always try to stay positive and motivated."
Frankfurt are Boateng's fourth German club following spells with Hertha Berlin, Borussia Dortmund and Schalke 04.
He has also been on the books English sides Tottenham Hotspur and Portsmouth as we all AC Milan in Italy.