African Nations Championship
Bidvest Wits gaffer Gavin Hunt feeling sorry for Bafana Bafana coach Stuart Baxter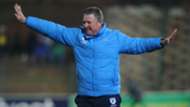 Bidvest Wits coach Gavin Hunt says he feels sorry for South Africa coach Stuart Baxter, who has been begging for players for their Chan 2018 qualifier against Zambia.
"I feel sorry for Stuart. I mean, he is struggling," Hunt told SowetanLive.
Baxter was forced to make changes to his initial squad, with 10 players withdrawing because of club commitments.
The same scenario has unfolded with approximately eight players pulling out, four days before the return-leg in Ndola.
"It's just a situation that's crazy isn't it? You have your national team and you cannot get players. I mean that's crazy. That's just crazy," he said.
Hunt says he would have selected players from the South Africa under-20 national team for the Chan qualifiers because it is a good building ground for the future.
"I think you need to take the under-20s maybe, in my honest opinion. You can lose but lose with an eye on the future," Hunt added.
"I would not even look at players that are 27 or 28…I would go with under-20s. But certainly I would take an under-20 side and go there," he said.
South Africa squandered a two-goal lead at home on Saturday and the match ended in a 2-2 draw.
"It's a very difficult tournament isn't it? I think the intentions are right, I think the intentions are good. But with football going the way it is going now, with all the money, you are not going to release for that unless it's a forced situation," Hunt concluded.