Liverpool
'Being behind Milner was f****d up' - Moreno airs Liverpool frustration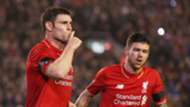 Alberto Moreno admits being forced to pay second fiddle to makeshift left-back James Milner at Liverpool in 2016-17 was "f****d up".
Despite having a natural option to fill that position, Reds boss Jurgen Klopp often chose to favour a right-footed player who was being pushed back from midfield.
Ireland 9/1 to beat Denmark 1-0
Milner impressed as defensive cover, with the 31-year-old England international renowned for his versatility.
Moreno has come back into favour this season, but the Spain international concedes that he has endured periods of frustration since Klopp inherited the reins at Anfield.
He told reporters ahead of a possible outing for his country against Costa Rica on Saturday: "It has been strange.
"He [Klopp] arrived and I played every game, then at the start of the next season I disappeared.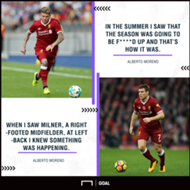 "In the summer I saw that the season was going to be f****d up and that's how it was. I cannot find a reason for what happened.
"When I saw James Milner, a right-footed midfielder, at left-back I knew something was happening. He did not give me any explanations.
"There came a point where I trained, looked around and knew that no matter what I did, they were not going to play me.
"He told me the team was fine, that I should continue working. I did, but the opportunity didn't come.
"I went to talk to him five or six times and the message was the same but nothing changed."
Having seen Milner steal his spot in the Liverpool starting XI, Moreno has also had to contend with the arrival of Scotland international Andy Robertson to provide further competition for places.
The 25-year-old added on the future calls he was forced to make over the summer: "My idea was to stay, work hard and earn my place.
"Klopp told me he was going to sign a left-back and that he couldn't promise me game time.
"I thought this was wrong, I spoke to my agent but he told me just to keep working."
Moreno has made 11 appearances in all competitions this season, with Robertson restricted to just three and Milner shifted back into midfield.