David Beckham
Beckham's Miami MLS franchise now a matter of months from green light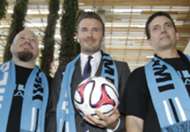 David Beckham has been told he can expect to see his Miami franchise approved by Major League Soccer "in the coming months".
The former Manchester United and Real Madrid player first announced his desire to move into club ownership back in February 2014 when he took up the option to buy an expansion team - which had been included in his LA Galaxy contract
The ex-England captain has faced a lengthy fight since then to get everything in place, with Minnesota United and Atlanta United added by MLS in 2017 and Los Angeles FC set to follow in 2018.
Beckham has, however, finally won a court battle to purchase the land for a 25,000-seater stadium, with Miami-Dade County Commissioners sanctioning a $9 million deal in June.
His group are now in a position to proceed with their proposals, with MLS set to make a decision on to two more expansion teams in December.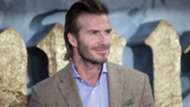 Twelve teams are currently competing for four more places, with Beckham now waiting to discover whether he will be given the green light.
MLS spokesperson Dan Courtemanche told BBC Sport on that process: "We look forward to working with David, Todd Boehly [majority owner] and their partners to finalise their expansion plan.
"David and his partners have committed a significant amount of time and resources to put everything in place to bring Miami the elite-level soccer team and stadium it richly deserves.
"We expect to make an official announcement to launch a new Miami expansion club in the coming months."
The proposed Miami franchise is yet to be given an official name.
Beckham, though, is continuing to push the project forward alongside former Spice Girls manager Simon Fuller, businessman Marcelo Claure and sports executive Tim Leiweke.