Transfers
Arthur can be Barcelona's next Iniesta, claims Gremio director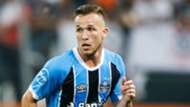 Gremio director Carlos Amodeo has backed Arthur to be a success at Barcelona, suggesting that the Brazilian midfielder could develop into Andres Iniesta's replacement at Camp Nou.
Negotiations are well underway for the 21-year-old, and though a transfer is not expected to take place until January 2019, the Catalan side rate the youngster highly. 
Indeed, a €30 million fee has been mooted for the midfielder, with scope for another €10m to be sent to Brazil by way of bonus payments.
Arthur, though, is still a player little known in Europe and even Amodeo admits that he is unsure what type of player he might develop into.
"It's difficult to say because he's still young," the general director of the Brazilian outfit admitted to Mundo Deportivo, "but, because of his style, Barcelona would be getting a player similar to Iniesta."
Amodeo also confirmed that if a deal is struck there will be "no clause to allow the advance signing of the player this summer".
Arthur, a former Brazil Under-20 international, has not featured since the final of the Copa Libertadores in November, when he sustained an ankle injury.
Iniesta, meanwhile, is a legend of the Camp Nou side, having turned out for the club over 650 times since turning professional in 2002. He has won a raft of trophies, including eight La Liga titles and four European Cups.