Transfers
'Arsenal ready to pay for Lacazette' - Lyon confirm interest but may frustrate Wenger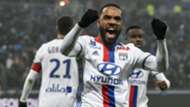 Lyon president Jean-Michel Aulas admits "Arsenal are ready to pay" for Alexandre Lacazette, but Atletico Madrid remain keen.
The Gunners have been tracking the France international for many years, with a window of opportunity finally opening up for them.
They are, however, about to enter a season without Champions League football and would need to dig deep to land a player valued at over £46 million.
Aulas believes Arsenal are willing to do business, having spoken with Arsene Wenger and former Liverpool boss Gerard Houllier, but has hinted that he may wait on Atletico to serve a transfer ban and reassess the situation in January.
He told L'Equipe: "I do not intend to sell Alexandre quickly, because there is always the option of Atletico Madrid to signing him on January 1, 2018. I also listen to what Alexandre says.
"I saw Arsene during the match between France and England. I was with Gerard Houllier [Lyon advisor] and I understand he [Wenger] told Gerard that there could be an interest from Arsenal.
"But it is premature to say that things will be done. We cannot let a player of that quality go without his replacement. We are talking about €50m [£43.7m] to €60m [£52.5m].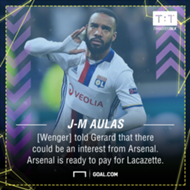 "Arsenal is ready to pay for Lacazette.
"Everyone knows Atletico were going to pay €53m [£46.4m] plus €12m [£10.5m] in add-ons. That's €65m [£56.9m].
"The Arsenal executives are well informed, they will be in those waters.
Lyon invite PSG bid for Lacazette
"The price for a player who scores, every year, between 25 and 30 goals, sometimes more than 30, is at least that.
"But frankly, I have not thought about Arsenal for the moment, because I thought that Alexandre would stay because of the failure, initially, with Atletico Madrid."
Lacazette netted a personal best 37 goals in all competitions during the 2016-17 campaign and has broken the 20-goal mark in each of the last four seasons.