Arsenal
Arsenal legend Wright 'pleased' with stayaway fans: It's a positive step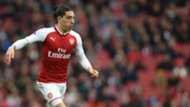 Arsenal great Ian Wright has praised fans of the north London club for staying away from games.
Many of the club's recent home matches, most notably Premier League fixtures against Manchester City and Stoke, have been greeted with indifference by supporters, leaving vast areas of empty seating at the Emirates Stadium.
It comes as a response to another inconsistent season, in which the Gunners have failed to properly challenge for a top-four finish and will rely upon the Europa League in order to secure Champions League football.
Wright sees this as the correct type of fan response to bring about a change in management, with pressure building on the board to dispense with Arsene Wenger.
"You hope that they will see that the fans have had enough," he told 'The Debate' on Sky Sports.
"Arsenal fans get a lot of stick on social media and people laugh at them. They threaten to do stuff and it doesn't quite happen but this is the first time I've seen a positive step from the fans.
"I was there the other day and it's not good to see but with the prices that they pay, they've had to listen to excuses, they've watched players leave, they've watched really incompetent performances and they've still gone in their droves.
"They should show that they are not happy. I'm pleased that they've done it and hopefully the board will be looking."
Wright was the club's record goal scorer before Thierry Henry and is frustrated with the current situation.
"They are looking at the club falling away and nothing being done," he said, again targeting the board.
Arsenal, who lie sixth, are 13 points off fourth-placed Tottenham with seven matches remaining in the season.