Arsenal
Arsenal have already lost Ramsey to a top-end club - Bellamy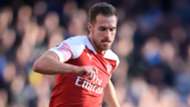 Arsenal have already lost Aaron Ramsey, according to Craig Bellamy, with the midfielder prepared to run down his contract and join "a top-end club".
The 27-year-old has entered the final 12 months of his current deal at Emirates Stadium and has offered no indication that he will be signing an extension.
Discussions regarding a fresh agreement are reported to have broken down over terms, with the Gunners finding themselves in an all too familiar situation as a senior star prepares to head for the exits.
Bellamy, a former Wales and Great Britain team-mate of Ramsey, believes there is no way back from this point, with a decision having been taken to make a fresh start away from north London.
He told Sky Sports of a player Arsenal are in danger of losing to the likes of Liverpool or Juventus: "I think they've lost him already - I think he's gone.
"Come January or the summer, he'll be going somewhere else.
"Four or five years ago, every club wanted him - Manchester City, Barcelona. I think it's time for him to move on.
"He's become conscious of some players that have stayed too long at Arsenal and not got the best out of their ability. He's a tremendous footballer that has had injuries.
"Unai Emery will be a good manager for him but he needs a change. He'll have a better chance of going to those top-end clubs if he's on a free transfer."
While Bellamy believes the time is right for Ramsey to take on a new challenge, former Arsenal star Paul Merson has questioned how another key man is being allowed to slip through the club's net following similar contract struggles with Alexis Sanchez and Jack Wilshere last season.
He said: "Arsenal have got to ask themselves some serious questions.
"It's a great club, but whoever is letting people's contracts run down is an absolute joke.
"You have to sign him. He brings goals to the midfield - he takes the pressure off the strikers. It's Arsenal's fault, they've allowed this to happen. In January, he'll have clubs queuing up to sign him."