Anirudh Thapa
Anirudh Thapa - The 2017-18 season was like a dream for me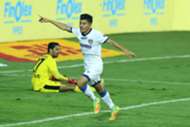 Anirudh Thapa footballing journey started at the age of eight. Taking inspiration from his sportsman father and elder brother who used to represent his school, Thapa took interest in the beautiful game. 
He joined the St. Stephen's academy in Chandigarh at the age of 12. He later moved to the AIFF (All India Football Federation) Elite Academy and from there he was spotted by Indian Super League (ISL) giants Chennaiyin FC.
In an interview with Goal, Anirudh revealed how he was nervous during his first stint with the Chennai-based ISL side. He said, "It was difficult for me to adjust at Chennaiyin initially because I was selected to play for them at the age of 18. It was a big thing for me to directly move to a professional football club from the academy. Two players, Harmanjot Singh Khabra and Pawan Kumar, helped me a lot in my first year at the club. They guided me in everything like what to eat, how to stay fit."
In his first season, he was coached by former Inter Milan defender Marco Materazzi who handed him his debut. The midfielder said that it was his honour to play under the World Cup winner. "I was a little scared to play under Marco Materazzi. He was a World Cup winner. But he helped us a lot. Initially, I was not a part of the main squad but he kept on guiding me at every training session and never let me feel that I wasn't in the team. It was an honour for me to play under him," said the 20-year-old.
The youngster flourished during the 2017/18 season. Under coach John Gregory, Thapa became a regular in the Chennaiyin starting XI. He played 16 matches for the Super Machans and scored two goals, including one in the semifinal play-off against FC Goa.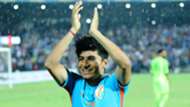 Speaking about the season, he said, "The 2017/18 season was like a dream for me. I never thought that I will be a regular at Chennaiyin as there were several quality players in midfield. There were so many foreigners and four Indian players and I was the youngest. Coach John Gregory saw me in training and gave me chance to play. I used to work really hard. I think I am really lucky that I got so much game time."
Thapa was an integral part of the Intercontinental Cup-winning Indian team as well. He played in three out of the four matches and also started in the final.
On getting a chance with the national team, the young midfielder thanked coach Stephen Constantine for believing in his abilities. He said, "The national team coach Stephen Constantine generally prefers physically big players. I would like to thank him that he gave the opportunity to play at even though I am physically not that strong and allo me to prove myself."
The 2017/18 season ended on a high for the Dehradun-born footballer as he received the Emerging Player of the Year award from the AIFF.
But the youngster refused to believe that his performances last season has made him a strong contender for a berth in the national side which will take part in the AFC Asian Cup in January next year.
He said, "The competition in midfield is very tough at the moment. Players like Rowllin Borges, Pronay Halder are the regular players. Germanpreet (Singh) is also there. I can't say that my place is guaranteed in the side, You have to train hard and perform to get your place."