D. Alli
'Alli more important to Spurs than Kante to Chelsea' - Former Arsenal star Alan Smith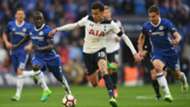 Former Arsenal forward Alan Smith believes that Dele Alli would be a greater loss to Tottenham than N'Golo Kante would be to Chelsea.
Chelsea star pays tribute to Ibra
Alli picked up the PFA Young Player of the Year award for the second consecutive season, whilst Kante won the PFA Player of the Year for his contribution to Chelsea's title challenge.
Alli has netted on 20 occasions in all competitions this season, and former Arsenal man Smith believes that his contribution has been greater than that of Kante's.
"I'd always go for the man who scores the goals [as the most important player]," Smith told Sky Sports.
"We were talking about it off air and Kante, as brilliant as he is, you could get somebody to do that job though not to quite the same effect.
"If you brought Matic in and said 'sit there and protect the back four or back three and break up the play' maybe that wouldn't be such a loss with Kante out of the team as Dele Alli scoring goals so I would always go with the man that pops up and gets the odd vital goal."
Smith, however, isn't the only pundit who believes that Alli is more influential than his London counterpart.
"It would be my dream pairing, those two in the middle of the midfield, maybe in a three with another player in there," Paul Walsh also told Sky Sports.
"If I had to pick one, though, I'd be with Alan [Smith] a little bit because scoring goals and creating chances is the hardest thing in football.
"He [Alli] does that. Kante is brilliant at what he does but you'd like to think that you could maybe get someone close to him, maybe not as good as him but close to do a decent job."