Mohun Bagan
All you need to know about Mohun Bagan elections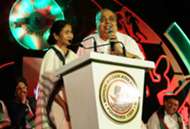 Mohun Bagan club elections are set to take place on October 28 at the Mohun Bagan club ground in Maidan. But the fight for the top-most post is already over as Swapan Sadhan Bose alias Tutu Bose has already been elected club secretary unopposed, after Anjan Mitra decided to withdraw his nomination on October 3. 
But elections will be held for the rest of the 21 positions (including 11 executive committee members) under the jurisdiction of three retired justices namely, Sushanta Chatterjee, Dileep Seth and Ashim Kumar Roy. 
| | | |
| --- | --- | --- |
| Position | Ruling Panel Contestants | Opposition Panel Contestants |
| Assistant Secretary | Ashok Guchait | Srinjoy Bose |
| Treasurer | Madan Mohan Dutta | Satyajit Chatterjee |
| Financial Secretary | Somenath Banerjee | Debashish Dutta |
| Cricket Secretary | Arghya Ghosh | Samrat Bhowmick |
| Football Secretary | Debashish Roy | Swapan Banerjee |
| Tennis Secretary | Somenath Ghosh | Sanjoy Ghosh |
| Athletics Secretary | Kashinath Das | Debashish Mitra |
| Hockey Secretary | Sailendranath Ghosh | Mahesh Kumar Tekriwal |
| Ground Secretary | Swadhin Mallick | Uttam Kumar Saha |
| Youth Football Secretary | Sohini Mitra | Bidesh Basu |
The ruling panel members are the favourites to sweep the election. On September 18, Swapan Banerjee decided to switch camps and join Bose's side in spite of being close to Mitra.
"I have decided to join Tutu Da's camp because I feel that only he can solve the club's financial crisis. In the coming days it will not be surprising if many others join Tutu da's camp," said Banerjee while announcing his decision. 
The opposition panel boasts of seasoned administrators like Debashish Dutta and Srinjoy Bose and both of them have a strong connection with the younger generation of fans. 
Moreover, several notable personalities from both politics and the Bengali film industry has lent their support to the panel led by Bose. 
Minister of Agricultural Marketing Arup Roy along with Mayor of Howrah, Rathin Chakraborty, endorsed the opposition panel during an election campaign at Sarat Sadan in Howrah. State Sports and Youth Services Minister and former cricketer Lakshmi Ratan Shukla also made an appearance in one of the campaigns. Interestingly, Balaram Chowdhury who fought against Bose back in 2015 was seen alongside the unopposed secretary in a meeting in Howrah.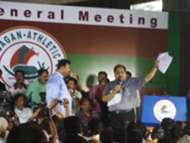 Even ATK co-owner Sourav Ganguly came out in support of Bose. 
"When I played for Mohun Bagan (cricket team), I watched his love and commitment towards the club. To associate with any organization, one needs to have a love for the organization and I have learned it with my time at Cricket Association of Bengal (CAB).

"Elections are an important part of any club. Sometimes you win, sometimes you lose. The prestige of Mohun Bagan club elections is very high. The whole world knows Mohun Bagan, it is a 129-year-old club. I have heard tales about the famous 1911 IFA Shield victory. It important members elect a person who can take the club forward."
The latest to join the bandwagon was actor Prosenjit Chattopadhyay who urged the members to vote for Bose and Co. 
"My father Biswajit Chattopadhyay was a huge fan of Mohun Bagan. If Bagan lost then he would not eat. My son is also a Bagan fan. Every morning he goes to practice. He might become a footballer in the future," said Chattopadhyay from the dais of Star Theatre.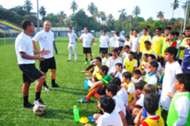 Former Mohun Bagan skipper Jose Ramirez Barreto made a courtesy visit to Bose's home during his short stay in Kolkata the previous week. 
Meanwhile, Mitra's campaigning has remained low-key. Although, general members have turned out in considerable numbers in their election campaigns the absence of any notable figures has not helped in drawing crowd as large as their opposite camp. 
Meanwhile, Mitra himself was admitted to a city nursing home for health concerns which has further dented their bid.
Amidst this administrative doldrums, Mohun Bagan is set to play four practice matches in the run-up to their first I-League match. They are yet to finalise the two remaining foreign players but it would not be surprising if Haitian winger Sonny Norde returns in maroon and green colours. 
Mohun Bagan have already roped in defender Dalraj Singh as a cover for Sukhdev Singh who remains suspended till January 31. The Mariners will play their first match in I-league against Gokulam Kerala on October 27 in Kozhikode.