U17 World Cup
After U20 World Cup success, USA striker Josh Sargent eyes U17 World Cup golden boot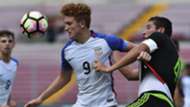 One of the key attractions, when it comes to star players, in the ongoing FIFA U17 World Cup in India is USA forward Josh Sargent. The 17-year-old boy wonder already has built up a reputation for himself as a deadly marksman following his unqualified success in the recently concluded U20 World Cup in South Korea. 
Sargent scored four goals in the competition, despite being at least 2-3 years younger than most other competitors, including USA's opening goal. He would finish as the joint second-highest topscorer of the World Cup, making the world sit up and take note. 
That forced Bundesliga club Werder Bremen to move swiftly and secure his services from 2018 onwards. Meanwhile, he has continued his exploits in the U17 edition as well, netting USA's opener in a 3-0 win over hosts India. 
Baring his heart in an exclusive chat with Goal, he said, "It's a very good feeling. It was a great start for the team to be able to win 3-0. It was a good feeling also to get the first goal. I am very excited to see how the rest of the tournament pans out."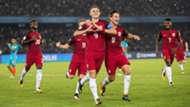 He went on to claim that he was not finding the U17 level easy though he has already starred at the U20 level and went on to state that his personal target was to win the golden boot. 
"I still think its very challenging if its U17 or U20 (levels) because it's still the World Cup with the best teams in the world. So it's still hard for me. 
"It would actually be a very big plus to get the golden boot but right now I'm just trying to focus on winning games for the team," he added. 
The 6 feet tall striker also spoke about the challenges playing in India poses before giving his assessment of the Indian team, who are playing in their first ever World Cup across any age group. 
"India has been a very good host country. Everybody has got used to the place. There's good food, lots of love. It's been fun. I think our team's done pretty well to get used to the weather (in India) but the fans (Indians) presented a pretty big challenge for us. We're thankful to have pulled through (in the end) in the opening game.
"They (India) were very hard working, they presented a lot of challenges for us. I think the game could have gone either way but in the end, we are lucky to have won." 
Sargent was also quizzed about his chemistry with fellow forward Timothy Weah, son of the legendary George Weah, who had remarked before the tournament one of his aims was to help Josh score goals in the tournament. 
"He (Tim Weah) is a very good teammate. I love playing with him and he is a very unselfish player and I love that about him. But I think if he gets a chance to score a goal he will definitely take it," he remarked with a smile. 
"I met him first in a couple of U14 national team camps a very long time ago. He was in an age group below me. I think it has helped him a lot, all the U13 work. He is a very hard worker," stated Sargent. 
The Missouri-born striker, currently playing for Scott Gallagher Missouri (a U.S. Soccer Development Academy Club), is set to join Germany's Werder Bremen on 1st January 2018. He spoke about the impending move and outlined his aims. 
"There were a lot of teams interested in me after the U20 World Cup. I thought Werder Bremen is just a very good fit for me and I felt at home. So I decided to sign for them. I need to get into the first team and then go from there." 
But first, Sargent's focus will be on lighting up India with his performances.