AFC Cup
Longhi admits mistake with back five selection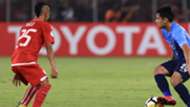 The head coach of JDT sprang a real surprise before the start of the match against Persija Jakarta on Tuesday night, retaining only Hariss Harun from the team that drew 0-0 with Pahang at the weekend. 
The weakened JDT side struggled to cope with the early pressure enforced upon them by a motivated Persija side that were back by over 60,000 fans in attendance. Within 20 minutes, JDT were already trailing by three and it was a case of fire-fighting after that.
Longhi was quick to hold his hand up in the problems that came with the team selection as the back five formation backfired on him. JDT looked uncomfortable in that formation with players being unsure of their positioning, with Fazly Mazlan in particular had a tough first half.
JDT perhaps may have offered an insight into their priorities this season as Longhi went on to explain just why he made 10 changes compared to the previous match. With the possibility of becoming the the first Malaysian team in the Asian Champions League next year, it looks like the Southern Tigers are putting more eggs into the Super League basket.
"We made mistakes in defence and that was our main problem. But Persija was outstanding tonight [Tuesday]. We put more players into defence because Persija players are quick with the number 25 and Simic, so they can make good crosses. This was the risk I took with the back five and it was my mistake."
"We conceded goals in the first half and it was not good. It was a tough opening 20 minutes to the match but after that we didn't do so badly. This style is not the real us as we are a team that plays flowing football. Some of our players did okay but Persija were just one step better. We will try to win the last game as we are playing in Larkin.
"We have played a lot of matches before this and we wanted to give some rest to the players because we play again at the weekend. There are a lot of players who are in need of a rest because there are too many matches in a week.
"We have 26 players in the team and we made changes because this Saturday we have a very important match against PKNS. We need to make some adjustment when the schedule is this packed," said Longhi in the post-match press conference.
One of the players who have a torrid time defending yesterday was Aidil Zafuan. The 31-year-old centre back was part of the back five that started the match but lack of familiarity with the formation and positioning, saw Persija attackers completely dominating that section of the pitch.
For Aidil, he acknowledged that after being caught by two early goals, it was hard for JDT to come back from that and pinpointed one Persija winger as the key figure that led to their downfall at Gelora Bung Karno Stadium.
"As I mentioned yesterday [Monday], it wasn't easy playing in front of such a crowd. We conceded very early and the first two goals affected out game. We tried our best tonight [Tuesday] but Persija played really well. [Riko] Simanjuntak was a dangerous player and we suffered a lot at that side. He caused us a lot of problem in the first 10 minutes of the match."
"Tonight [Tuesday] we made a lot of mistakes. There's no choice but to win our last game. We JDT players are never alone when we play at home and we need to fully utilise that," said Aidil.
JDT will host Vietnam's Song Lam Nghe An in the final group match, with qualification out of their control. They will need to win by at least 2-0 to match the equivalent result in the reverse fixture early in the campaign. The best second spot looks like the best route for JDT to reach the knockout stage but that also depends on permutations from other groups.