AFC Cup 2017: Maziya's Marjan Sekulovski - We have prepared specially for this match
Last Updated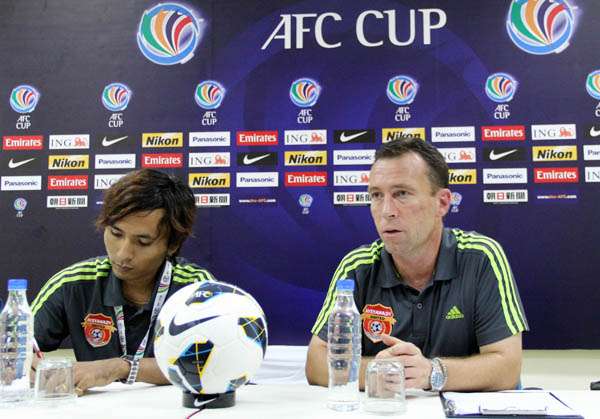 TT&VH
Maldivian side Maziya S&RC have arrived in India and are set to face Kolkata giants Mohun Bagan in their AFC Cup Group E league game at the Rabindra Sarobar Stadium on Wednesday evening. The Mariners and The Green Boys have three points each after two matches but the Indian outfit is placed above, at the second positon, on account of scoring more goals.
Maziya head coach Marjan Sekulovski was delighted to be in the country and expressed his happiness by mentioning about Albanian-Indian Roman Catholic nun and missionary, Mother Teresa.
''Firstly, I am very happy to be in Calcutta. I am from Macedonia and this city is special to me because of the life and work of one of the best persons in the world, our and your Mother Teresa,'' said Marjan.
Bengaluru FC 2-0 Abahani Limited Dhaka - Blues strengthen grip on top of Group E
Further, the 44-year-old mentioned that the visitors are pumped up for the clash but the final list of the playing XI is yet to be confirmed. ''We (Maziya S&RC) respect Mohun Bagan but we have prepared well for tomorrow's game. We still have training left and then I will decide the lineup and what responsibility each player will carry out on the pitch,'' he remarked.
Maziya's last fixture against Dhivehi Premier League outfit New Radiant S.C saw Imaaz ahmed and Milos Kovacevic on the absentees' list. The 25-year-old forward was rested whereas the Yugoslavia-born defender was suspended. On being quizzed about offering respite to some players in that tie, the gaffer explained that the decision was planned keeping the future ties in mind.
''Our squad consists of players that can play in every match. We have prepared specially for this match. I believe in our team and their work. I don't speak about individuals,'' he explained.
Mohun Bagan's Sanjoy Sen - Will need to be cautious against Maziya S&RC early on
Sanjoy Sen has opted to rest several players in order to save them for the big clash against Aizawl FC which would be the I-League title decider. The list of players sidelined include Debjit Majumder, Pritam Kotal, Anas Edathodika, Eduardo Ferreira, Raju Gaikwad, Katsumi Yusa, Sehnaj Singh, Sony Norde and Darryl Duffy. Despite the absence of quality players in the opposition, the Maziya boss believes the hosts would pose threat to his side.
Moreover, the coach conveyed that he is not concerned with the changes in Mariners' squad and claimed that his side will fight for the best result possible.
''They (Mohun Bagan) are a strong team and I believe they have a squad of 30. Maybe 20 of them are quality players. It's better if you ask this question to their coach. For us, this game is important and we will concentrate on our team. It is their decision what kind of lineup the Mohun Bagan coach wants to field. I will think about our playing style and give our best,'' he revealed.
In 2016, Maziya fell prey to the Kolkata heavyweights in a 5-2 result at Guwahati. Also, Marjan, who was the then Yangon United gaffer, had lost 3-2 to the Indian side in the first leg and shared spills in a 1-1 full-time scoreline in the second leg on home soil. When asked if the familiarity with Sanjoy Sen and company would benefit him, Marjan replied,''They (Mohun Bagan) played Yangon United when I was the coach and also we had Maziya (S&RC) too in the same group. I think we know each other. If this is an advantage for us, then it is for them too,'' he concluded.