Mohun Bagan
AFC Cup 2017: Know Mohun Bagan's Rivals - Colombo FC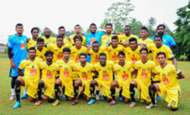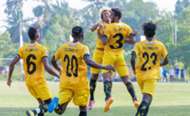 TEAM NAME: Colombo Football Club
HOME GROUND (AFC Cup): Racecourse Sports Complex [Capacity: 40,000]
COUNTRY: Sri Lanka
LEAGUE: Dialog Champions League
NICKNAME: 'Yellow Submarine'
Head Coach: Mohamed Roomy Hassan (Sri Lanka)

Last season achievements: Champions of Dialog Champions League, Semi-finalists in Sri Lankan FA Cup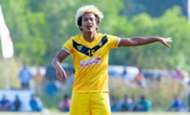 Colombo Football Club are relatively a new team compared to Mohun Bagan who celebrated their Quasquicentennial three years ago. Founded in 2008, the Sri Lankan capital-based club has quickly risen to continental football from the Island nation.

The Yellow Submarines started out at the local City Football League and Colombo Football League in its founding year. They entered the Third Division of the Lankan Football Federation in the 2009-10 season. The following year, they finished as the runners-up after losing to Matara SC 2-0 in the finals.

However, that was only the teaser for bigger things to come. Maiden silverware arrived in the form of the 2010 Silver Cup Championship - a local tournament in Colombo. Progressing into the third division, Colombo lost out in the semi-finals against eventual champions Solid SC. However, all the semi-finalists were promoted to the Premier Division I (2nd division) for the 2012-13 season.

Thereafter, back-to-back promotions saw the team achieve their ambition of participating in the Dialog Champions League, in 2013. Colombo had arrived onto the big stage - in only five years of existence, dragging themselves out of four divsions and into the top tier of the nation's football pyramid. 

The first season saw them top their group and qualify for the knockout stage, post the regular season. But they were defeated 3-2 by Don Bosco in the quarter-finals. In the 2014-15 edition played in round-robin style, the Yellows ended as the runners-up, missing out the top prize by six points.

Sweet consolation awaited them, however, when they managed to win the Sri Lankan FA Cup, in a tight final over Blue Star FC, which finished 1-0. 

Returning back into the regular and playoff format last season, Colombo FC had a cakewalk in the group stages going unbeaten. In the playoff league, they won by goal difference as both Renown SC and Colombo finished on 17 points. A goal less conceded made the difference as Colombo FC were crowned champions of Sri Lanka - 2015-16.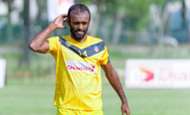 This will be Colombo FC's first time in any of the Asian Football Confederation's (AFC) competitions.
Interestingly, they have had to revamp their squad for the AFC Cup qualifying tie given their not-so-inspiring performances in their Dialog Champions League title defence. 

Colombo FC had a torrid time in progressing into the championship playoff (Super 8s) from their regular league. With 15 points, they finished third - seven behind the toppers where they lost three matches.

Since then, they have recaptured some form and most recently beat Army SC 2-1 to go top of the table at the end of the third round. However, there are still four rounds to go.

Eight new signings have come in for this two-legged tie with the 2015 I-League winners from India as they look to make a mark in their first ever taste of Asia's second club competition.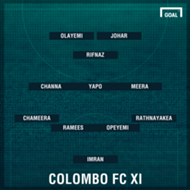 Mohamed Roomy will look to go for experience to counter the Mariners and bring back star man Zarwan Johar in attack who was instrumental in their last game. 

De facto number one Mohamed Nazeer Imran should face stiff competition to retain his place from Ruwan Arunasiri. But the latter has mostly been called up from Air Force Club as a back-up.

Charitha Rathnayake and Chalana Chameera, both new arrivals should be deployed as the right and left full-backs, respectively. Nigerian stopper Nasiru Opeyemi and Mohamed Ramees are most likely to be trusted on the firing line of central defence.

Skipper Rawme Mohideen and creator-in-chief Momas Yapo will man midfield. Nagur Meera, in impeccable form, should feature but former Dempo SC man EB Channa would also like a run-out against a familiar opponent.
If at all Afeez Olayemi plays, he would be sent upfront as Zarwan Johar would be slotted behind him as a secondary striker. Interestingly, last season's golden boot winner Mohammed Rifnaz also joins the side for the AFC Cup which will give Roomy plenty of selection headaches.

Veteran Mohamed Issadeen and upcoming star Danushka Madushanka might have to miss out on selection given the depth in the squad.
Momas Yapo: A player in the mould of Yaya Toure, Yapo is a complete box-to-box midfielder. He is lethal in dead-ball situations with a good leap inside the box from corners and heads the ball well. Yapo's duties in the midfield will be to create chances for Johar. If needed, Yapo can also be deployed as a sweeper in front of the backline.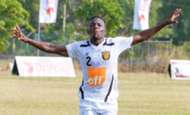 Zarwan Johar: All of 20 years old, the former Lankan U-19 skipper is one earmarked for the future but he has been proving his mettle in the present as well. His introduction in the second half in their latest game saw them churn out a comeback win all credit to Johar's speed and vision in front of the net. Expect the Mohun Bagan defenders to be troubled by his pace and agility. 
Coach Mohamed Roomy:

"This is a good opportunity for us to show our standard so we hope to play the tournament in good manner and give a good fight. We have a good mix of veterans and young players in the team and this will be a good opportunity for everyone. We are underdogs but we are determined to win this match."

Captain Rawme Mohideen:

"Everyone knows Mohun Bagan and they are rated above us. We have been working a lot on our defensive work and fitness these few days. The first leg is crucial because we will be playing at home, a 1-0 win is a minimum if we are to try and play for a draw in the second leg."
 
GOALKEEPERS: 1. Mohamed Nazeer Imran, 22. Mohammadu Haslan, 40. Prabath Ruwan Arunasiri, 41. Mohamed Ashik;
DEFENDERS: 3. Mohamed Ramees, 4. Charitha Rathnayake, 13. Siraj Mohamed, 15. Nasiru Opeyemi, 17. Mohamed Mufees, 19. Afeel Mohamed, 24. David Osagie, 25. Sajith Chameera, 26. Chalana Chameera, 28. Mohamed Shifan;
MIDFIELDERS:  2. Momas Yapo, 6. Nagur Meera, 7. Tuwan Rizni, 8. Vikum Kumarasiri, 9. Niran Kanishka, 12. Mohamed Cassim Rifnaz, 14. Rawme Mohideen [Captain], 16. Ediri Bandanage Channa; 
FORWARDS: 10. Zarwan Johar, 11. Ahamed Shazny, 18. Asikur Rahuman, 20. Afeez Olayemi Olofin, 21. Dilan Kaushalya, 23. Danushka Madushanka, 27. Shafran Sathar, 30. Mohamed Issadeen.


Follow Swapnaneel Parasar on Twitter - @Swapyo