Opinion
A tribute: Chinedu Udoji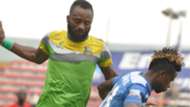 The Nigerian football scene was still gently stretching and rubbing sleepy eyes when the news filtered in. Chinedu Udoji of Kano Pillars, formerly of Enyimba, had died in the dead of the night. Reports put his death between the hours of 11p.m and 1a.m.
As the condolences that have poured in by the bucket load can attest, Udoji was an eminently influential figure within the league. Some of that will no doubt have to do with the fact that he featured for two of the richest and most successful clubs in the land: he was in his second season with four-time league champions Kano Pillars; before that, he spent six years with two-time African champions Enyimba, five of those as club captain.
When one passes away, there is invariably a search for meaning. Whether or not you reckon with the concept of an afterlife, you can agree with 'legacy', the idea that the life one lives can serve as an epistle to those left behind.
Udoji's legacy is not in the trophies, although he won quite a few with Enyimba: one league title and two FA Cups come to mind readily. It is in the less tangible aspects. There is no bauble that can encapsulate what he meant to the players and management of the teams he turned out for.
As a long-serving captain with the Aba giants, he understood fiercely his responsibilities toward both the staff and the players. On the grueling cross-country trips that are the bane of Nigerian football, Udoji would almost always take the least comfortable seat if it meant someone else could sit more comfortably.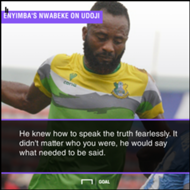 On more than one occasion, he objected to the standards of a hotel the team was invited to camp in, demanding on behalf of the team more befitting accommodations. He got it too! It may seem a little victory for one not conversant with the nature of government-run football in Nigeria.
With club managements having to make do much of the time, to take a stance and get them to spend more than would have been preferred is no small feat. It would not be possible were he not also keenly respected by the management.
Respect, it is said, is reciprocal; and the professional manner and mien of the man set an example that colleagues and staff found hugely commendable. It says a lot that, barely a year into his stay at Kano Pillars, he captained the side for the opening games of the league season, in the absence of local hero Rabiu Ali.
On the pitch, he was a tough tackler and tireless defender. He was not the most aesthetically pleasing, but he more than made up for it by wearing his heart on his sleeve, much in the same way that his model John Terry did with great distinction for Chelsea.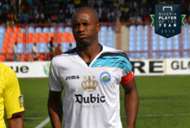 Off it though, was an altogether different individual: thoughtful, measured and with no airs at all. It could often be difficult for opponents to reconcile the difference between Jekyll and Hyde. In his final appearance for Kano Pillars, he was typically physical and gave young Enyimba forward Wasiu Alalade a good couple of whacks.
When he met the younger Alalade afterward, he effusively apologized, acknowledging that he had been overly rough. The previously irate striker, who had vowed never to speak to him again, was bowled over by his sincerity. There is a sense of poetry to the fact that he played his last football match against the team with whom he is most closely associated, and in which he achieved the most success.
His last act before passing away? Paying a visit to the Enyimba camp to catch up on old times with the club of his heart. There is no right way to go, but right to the very end, he left no doubt where his affections lay. Perhaps that is the legacy of the man: if time is this short and transient, then we ought to live it with all we are, holding nothing back.