A-League
A-League clubs warn against FFA reform delay
Goal Australia Chief Editor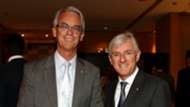 The A-League's clubs are concerned that Football Federation Australia (FFA) will try to delay "long-overdue reform" in a meeting with FIFA president Gianni Infantino this week.
FFA chairman Steven Lowy and CEO David Gallop are set to meet with Infantino on Wednesday, with reports in the Australian media claiming they will attempt to impress on the FIFA boss that constitutional reform should be postponed.
But the Australian Professional Football Clubs Association (APFCA) - the representative body of the 10 A-League clubs - has warned any move to deny them more influence in Australian football would be "unacceptable".
The APFCA claimed FFA has yet to liaise with the A-League clubs about how it might change its controversial voting structure.
In September, FIFA and the Asian Football Confederation (AFC) sent delegates to Australia to discuss FFA reform, with the election of Lowy as chairman in 2015 having come under scrutiny.
Lowy was elected unopposed to replace his father Frank with only 10 voters - the lowest of any FIFA member - included in the process.
FFA's constitution and voting structure gives a vote to each state and territory association, plus one vote representing all 10 A-League clubs.
After meeting with FIFA and AFC representatives, Lowy had declared FFA would implement changes by March 2017 after consultation with stakeholders.
"The APFCA has yet to have any meaningful engagement with FFA on the constitutional and governance reform the FFA committed in September 2016 to complete by March 2017," read a statement from the APFCA on Monday.
"We would find it unacceptable if the visit by the FFA chairman Steven Lowy and FFA CEO David Gallop to the FIFA president either delays the long-overdue reform of the FFA General Assembly, or creates a circumvention of the committed process of engagement with stakeholders of the Australian game.
"It is the APFCA's position that the professional game can no longer be expected to be the major financial provider to Football Federation Australia without fair democratic representation in the FFA General Assembly."
The APFCA also demanded FFA "publicly clarify" its position and the reform process.
In a separate statement, FFA explained the meeting with Infantino was organised after his trip to Australia was cancelled last month.