Youth football: Goa Super Cup Announces Nivia Antrix as official match-ball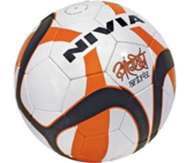 Goa Super Cup (GSC), one of the fastest-growing youth football tournaments in the country, has announced Nivia Sports as their Equipment Partner for the GSC 2017 season.
Under the agreement, the premium NIVIA ANTRIX football will be used as the match ball in the tournament that takes place in Goa during 11 May to 13 May. The tournament will be held across 12 grounds in Salcette, South Goa. 
More than 100 teams to participate in Goa Super Cup
GSC 2017 will have an Elite division, running simultaneously with the open category. The Elite division will be an invitational tournament for the eight best professional youth teams in India.
The U-15, U-17, Girls and Elite will play with the Size 5 Antrix ball while U-11 and U-13 age-categories will play with the Size 4 Classic.
GSC head Vaishali Sanas said, "We are pleased that we are tying up with a completely Indian manufacturer for our tournament, which we are building as a showcase for Indian talent."