Young Africans
Yanga into the CAF Confederation Cup group stage despite defeat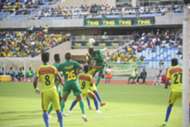 Yanga have progressed into the group stage of the CAF Confederation Cup for the second time in three seasons after a 2-1 aggregate success over Ethiopia's Wolayta Dicha.
Following their 2-0 away defeat in Dar es Salaam on April 7 in the first leg, Wolayta Dicha pulled one goal back in less than two minutes since kick off through Araf Djako, but Yanga held on until the final whistle to book their place.
The Jangwani club repeated the same thing they managed two years ago after being ahead by 2-0 against Angolan side Esperance in the first leg and lost 1-0 in the second leg.
Yanga's caretakers Noel Mwandila and Shadrack Nsajigwa deployed a defensive minded line-up which included four strong midfielders at the middle of the park in order to reduce threats in front of their goal.
The home side tried to make things happen throughout the game but couldn't get behind Yanga defenders who were under skipper Kelvin Yondani who returned in the game after serving a one match ban.  
Dicha's scorer Djako was the standout player causing a lot of problems especially in the Yanga's flanks. Yanga's Chirwa was kept under tight security and it was rare to see him touch a ball in the opponent's box.
Yanga's starting line-up
Youthe Rostand, Hassan Kessy, Hajji Mwinyi, Kelvin Yondani, Abdallah Shaibu "Ninja", Thaban Kamusoko/Juma Said (45), Papy Tshishimbi/Emmauel Martin (70), Rafael Daud, Pius Buswita, Obrey Chirwa, Yusuph Mhilu