Premier League
Would Thierry Henry really make the perfect replacement for Arsene Wenger?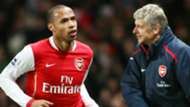 Two-hundred-and-fifty-eight Premier League appearances, 175 goals, a statue outside Emirates Stadium and legendary status among Arsenal supporters across the world; Thierry Henry has left an extraordinary legacy at the club he first joined from Juventus as a goal-shy winger in 1999.
Can that legacy be further enhanced by taking his talents from the field and into a managerial role? It's something fellow pundit Jamie Redknapp envisioned when, while sitting next to Henry, he tapped the Arsenal legend as the ideal replacement for Arsene Wenger. 
"Arsenal need someone young, fresh and hungry," Redknapp said on Sky Sports. "And I think that man is sitting in the studio beside me [Henry]."
It appears ever likely Arsenal will be searching for someone new at the helm this summer as Wenger, the man who brought his compatriot to the club as one of his first major signings, attempts to cling onto the ever-decreasing power which seems to be slipping away with every game played this season.
But, while the World Cup winner is undoubtedly one of the best players to have ever graced world football, it is necessary to separate the player from the potential managerial candidate when talking about the next steps in his career.
It's unknown who Wenger's preference for the next Arsenal manager role would be, although he has previously mentioned Dragan Stojkovic. The pair worked together for two years when Wenger was manager at Japanese side Nagoya Grampus and Stojkovic has visited London Colney training ground to meet with the Frenchman on a handful of occasions over the years.
"I would love Stojkovic to be my successor, there are a hundred reasons for that," Wenger told Serbian paper Vecernje Novosti in 2011.
''Our ideas are the same and we both strive for perfect football. I knew he was going to have teams playing attacking football with many passes. He has done that, showing he will be a great coach."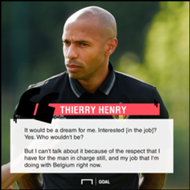 Wenger keeps in contact with many of his hundreds of former players but the decision to issue an ultimatum to Henry last season may influence his opinion on whether he's likely to recommend the former striker. The Arsenal boss told Henry that he could only carry on coaching at Arsenal's academy if he devoted himself full time and quit his role as pundit on Sky Sports, which Henry unsurprisingly didn't want to do.
While Wenger is likely to be consulted over his replacement if his time at the club comes to an amicable ending, the most influential decision-makers in appointing the next Arsenal manager will be chief executive Ivan Gazidis and non-executive director Josh Kroenke, son of majority shareholder and owner Stan. The American billionaire's decision to gradually give more power and influence to his son has the utmost relevance as he has a close relationship with Henry.
Kroenke Jr. has a deeper and broader interest in football compared to his father but the final decision on the next Arsenal boss will almost certainly be on Gazidis' shoulders. At this point it would be a gamble to appoint Henry. He has been assistant manager of Belgium for almost two years but Goal understands that his role is mostly as a figurehead – someone the players can look up to and receive first-hand advice from.
That is not to downplay the value of that ability. Belgium manager Roberto Martinez has praised Henry's work alongside him and his importance to the staff. 
"Thierry has a big role," Martinez told FIFA .
"The quality of his work is impressive, he still has that high demand for excellence that he had when he was a player and which made him one of the best players in the world.
"He also has that know-how and experience from winning a World Cup, and that is invaluable for us, as we will have to overcome the mental barriers to do that. In the national team, you don't have long with the players, and Thierry helps us maximise the time spent with the players through his quality and his expertise.
"For a forward, for example, to be able to talk to him about his movement in the penalty area is a huge plus."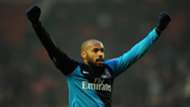 However, Henry's limited input on the tactical side of things should be noted and compared to another potential manager Mikel Arteta.
The Spaniard has seen his role at Manchester City evolve from an ex-player initially hired due to his Premier League experience and multi-lingual abilities to someone who is now consulted by Guardiola on tactics and team matters, which shows how highly regarded he is by the soon-to-be Premier League champions.
Arsenal's greatest-ever player has dreams of coming back to manage the team he is now a fan of, but those involved in the hiring process shouldn't let romance get in the way of common sense.
Henry needs first-hand managerial experience where he's able to devote his entire working week to the game. Until he does that there will always be better suited candidates and names such as Arteta, Patrick Vieira and Luis Enrique will understandably be favoured ahead of the legendary Arsenal striker.