Wolfsburg
Wolfsburg's secret to unbeaten streak? Brushing teeth after matches!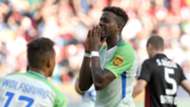 Martin Schmidt has helped to breathe new life into Wolfsburg, with post-match tooth brushing credited with aiding his cause.
Wolfsburg 6/4 to beat Hoffenheim
With the Bundesliga outfit having stumbled out of the blocks in 2017-18, the decision to mix things up in the dugout was taken in mid-September.
Andries Jonker was relieved of his head coaching duties and the baton immediately handed to Swiss tactician Schmidt.
He has overseen a four-match unbeaten run since taking the reins, with credible draws against Bayern Munich and Bayer Leverkusen forming part of a sequence of stalemates.
Wolfsburg are starting to look more like their old selves, with Schmidt admitting to having introduced some rather unusual methods in the pursuit of success.
He told Kicker on his championing of getting players to brush their teeth after a game: "If you are completely exhausted, there is an acid reaction.
"The acid goes into the blood, which can influence the regeneration."
So, Wolfsburg have been more lively of late because they recover quicker by brushing their teeth.
It remains to be seen whether that approach catches on, but it is serving Schmidt well for now. There is still plenty of work for him to do at a club with just one league win to their name this season, but they are starting to edge in the right direction.
Wolfsburg remain only one point clear of the Bundesliga relegation zone, but the goals have started to flow again – with key men such as Liverpool loanee Divock Origi and Polish winger Jakub Blaszczykowski having been on target in recent weeks.