UEFA Champions League
Wiko Game Changer: Giorgio Chiellini barricades Luis Suarez and Barcelona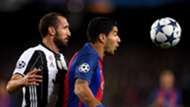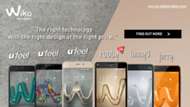 If the Juventus fortress proved impenetrable to waves of Barcelona attacks, denying them a goal in the 90 minutes of play on Wednesday night, and indeed all the 180 minutes of the tie, it was down to their centre-backs Giorgio Chiellini and Leonardo Bonucci.
At the Camp Nou, with Barcelona chasing one more miracle, the former was charged with keeping a lid on feisty Luis Suarez and Chiellini executed his job perfectly.
Before kick-off, there were two statistics that needed to be taken into consideration. Barcelona had scored in each of their last 21 Champions League matches on home turf. But at the same time, Juventus have been in solid defensive form this season, conceding just two goals in their 10 matches in the elite competition.
As it turned out, Barcelona's stellar run at home would end with that 0-0 draw on Wednesday. Juventus had won their home leg in Turin 3-0, and thus advanced to the semifinals.
For any team, to come out with a goalless draw at Barcelona is an achievement in itself. Especially since that Catalan club boasts firepower in the likes of Lionel Messi, Neymar, and Chiellini's old nemesis, Suarez.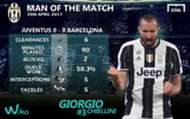 The two share a bite of history. During the match between Uruguay and Italy at the 2014 World Cup, Suarez sunk his teeth into the shoulder of the Italian defender, before Uruguay would go on to win the match. By now, Chiellini would know all about Suarez's capabilities as a fearsome striker. And the 32-year-old out-mastered the forward in all aspects.
Former Napoli manager Walter Mazzarri once stated that Chiellini 'can mark three players by himself.' On the night, the defender only had to worry about the Uruguayan. He and Bonucci were like twin towers in the heart of the Juventus defence. And with the evergreen Gianluigi Buffon in goal, neither Suarez nor any other Barcelona stalwart could break past their stranglehold.
The defender effectively cancelled Suarez's threat. Both his crucial blocks came off Suarez's attempts at goal, but additionally, he threw in five tackles and had as many interceptions against a Barcelona attack that has otherwise been ruthless at home.
Just as the hosts grew restless in their pursuit of overturning the 3-0 lead, Chiellini grew even more resolute. So much so that Buffon was required to make just one save from the only shot Barcelona could muster on target.
Now in his 13th year at the club, Chiellini earned Juventus a clean sheet in two entire games against Barcelona, and even chipped in with the third goal in the 3-0 win in Turin. Only Manchester United (2007-08) and Bayern Munich (2012-13) have been able to keep Barcelona goalless over two legs.
"They built a mountain," Gerard Pique said. "They were better than us, they deserved to go through."