WC Qualification Africa
Why we're taking Ghana clash seriously, Egypt coach reveals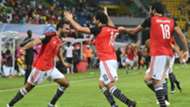 Egypt will be handing opportunities to fringe players in their upcoming World Cup qualifier against Ghana, but the Pharaohs are not in for a friendly affair.
Ahead of the final matchday, Hector Cuper's side have already secured the group ticket as they currently sit four points above second-placed Uganda.
Preparations have already started in earnest for next year's global showpiece – Egypt's first since 1990 – and for their Argentine coach, Sunday's clash with the Black Stars remains of high importance despite its dead rubber status.
"We are taking Ghana's match very seriously to keep the momentum going although it doesn't matter because we qualified already," Cuper has told pressmen.
"It is very hard to try new players in official fixtures. The player has to adapt to my style of play. We try to call up players who can adapt to my style of play as much as possible.
"We have a back-bone for this team. We may change some things in the upcoming period but we are facing a problem, which is lack of time before official matches start."
On Egypt's last visit to Ghana - in 2014 World Cup qualifying in 2013 - the Pharaohs were at sixes and sevens, as they heavily fell 6-1 to the Black Stars in Kumasi.
The final draw for Russia 2018, meanwhile, will be held at the State Kremlin Palace in Moscow on December 1.